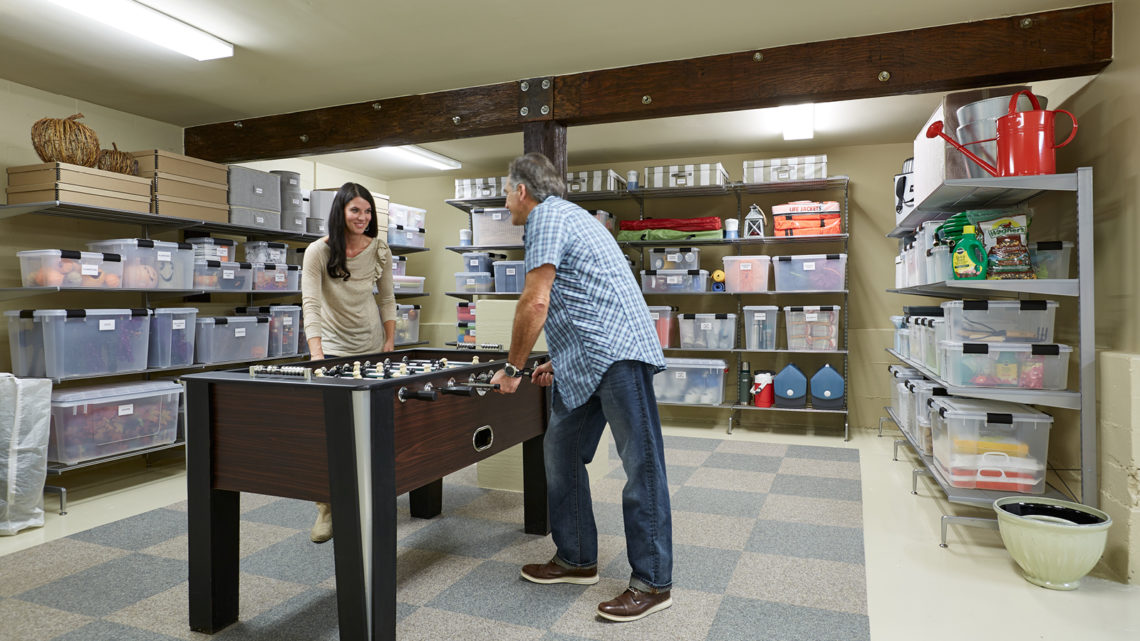 Basement Organization: Keep Things in Order (3 Tips)
April 17, 2019
Dumping basements and cleaning it up is often not that easy. But I'll tell you my best tips on how to do it anyway.
There is a high probability that you keep all kinds of things in your basement, the ones you need and the ones you don't
Yes, I feel the same way. I have not been very mindful in the last few months and have just put everything in the basement, which otherwise was in my way.
And, now I have the mess.
The hot temperatures, however, invite you to go into the cool cellar and take care of things.
Are you coming with me?
Often it is like this – out of sight. Of course, you do not get into the basement quite as often as in the living room. It's convenient because you can close and lock the door … and quickly forget what's going on around there.
And by the way, while we're at it, the loft or storage is linked to your future. And here it can also be quite pleasant not to have too much stuff about you – it pushes, complains and pulls you down without us realizing it.
But only in passing.
Now it's finally time for the tangible tips.
No matter from which angle you look at it – clutter remains clutter. No matter where he is. It is stagnant energy. The energy that you might be better off using for something else.
Take pictures of things your heart is still attached to
We all have things that we would never put up in the apartment, but that is associated with many emotions. These may be happy moments (our baby's cuddly little cutie pies, which will soon be 21 years old), the memories of a dear deceased person (the wing chair that our dear grandma loved so much) or sometimes sad memories of ex-partners, friends, from which we parted in the dispute … or whatever it is with you. Things in which our heart still hangs are, understandably, very difficult to let go. How could you do it anyway?
My Happy Tip: Take pictures of it. So you can watch them again and again, if you feel like it and let the memories come to life. But you need a lot, much less space.
The farewell of the actual things you can then make a small ritual. Take your time, maybe light a candle and let the feelings you associate with this item rise again. Think of your dear grandmother, how she embraced you, how she gave you her love. And be sure, just because you no longer have her wing chair, her love will continue to exist. You can always feel it when you feel like it. Thank you then lovingly for the good services of the subject and dispose of the good piece at the very next opportunity. How to do that, check out Happy Tip # 5.
I could use that again someday
Oops, get caught … Maybe you also have this big box (s) of craft stuff or giveaways or bags for the next 20 years, with things you do not use anymore because it's a past hobby (I did – and I did it recently) We hope our godchildren enjoy it now), with clothes that have been out of style for 20 years and are tweaking and jerking. Yes, exactly – everything will come again. That's right – but usually, a nuance is different. And that's why we do not feel well in old clothes then. With magazines that you always wanted to read, with books from your studies that you wanted to read again someday.
Also here: Sort out rigorously – maybe you can make another human with it a huge joy. And let go of everything that is just too much.
Give joy and make money on the side
There are certainly some items that are still good enough for someone else to use them well. You may ask friends or acquaintances that you know are in search of such an item. Importantly, do not be offended if your gift is declined. It should never be the case that you impose other discarded items – the other way around, of course.
There are also a lot of social institutions that look forward to one or two donations (as long as they are still good to use). And, of course, you can still earn money by selling it to an online platform or flea market. Just ask Google and loads of addresses are spat out.
Always remember that in the end, you spend money (rent and storage), time (dusting, cleaning), and energy (remembering to keep it in order) for it. Money, time and energy that you might otherwise be able to use better. Make it as easy and easy as possible. Keep what is useful to you, what you need and love, and separate yourself from the rest.
How is that with you – is the cellar also your problem child or do you have a very relaxed relationship to it, because everything is tidy and tidy – or you have no cellar or in any case, if you are thinking to have one, you can contact to KapitalBasements for expert advice.