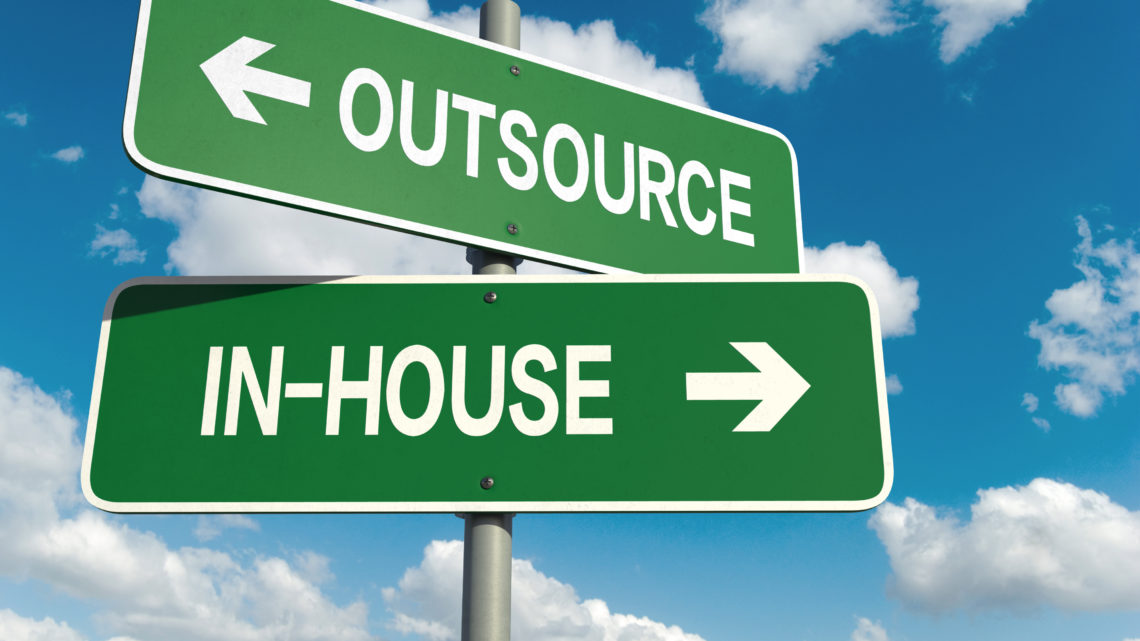 When to Outsource…and When To Keep It In-House
March 1, 2019
Being able to save time and money on projects while maintaining productivity and positive results is among the hardest tasks any business owner faces on a regular basis. However, one way that companies have managed to do so is through outsourcing, in which they hire an outside party to handle certain assignments.
As helpful as outsourcing can be in certain situations, it helps to know when the right time is to do it so that you don't waste resources. Factors that you'll need to consider will range from the skill-level required for the tasks you're focusing on, how relevant it is to your business, and how often you need it done. This guide aims to let you know when to outsource and when to keep it in-house so that you keep your business strong.
Relevance to your business
Running a business requires having a clear understanding of what you provide in products and services. There are certain alternatives that only a few companies can offer, whether it's because of resources, money, or branding. When it comes to jobs that provide items that are part of your field but are hard to come by, you should consider outsourcing so that customers keep coming back from you when the need for this item returns.
Some of the best outsourced accounting firms, for example, are able to handle accounts that are needed on rare occasions. However, companies tend to avoid this option if the product or service in question doesn't relate to what they specifically offer. Some brands tend to focus on options that help them stand out, and will keep from outsourcing if it doesn't connect with their image.
Special occasions
While some jobs require more time and dedication than others, that is not always a determination of their relevance. There are certain assignments that are only needed on several occasions, but there are important because of the long-term impact they have on your success. This is mostly due to the unique requirements that are needed to do it, as they are often not found among your regular staff.
For instance, you may be running a supplement company that requires marketing services that only work for an event that you hold once or twice a year. It doesn't hurt to outsource in this situation, as it won't require full-time commitment, and you won't have to spend as much money due to the low amount of times you'll need the particular person's help.
Avoiding costs
The tools you use to get assignments done are determined partially by the amount of money they require. You may not have the experts needed for tasks on your current staff, but the outsourcing options that are currently available may be charging a certain amount for their services that may seem unreasonable. In this case, it won't hurt to combine the skills of a variety of employees to get the job done if it saves you money.
However, you should make sure to take advantage of the long-term costs you'll be able to avoid with the help of an outside party. The inside team may take a while to accomplish the task due to their lack of expertise, and that may result in more money spent of attempts. On the other hand, with the right person behind the assignment, you can get the task done quick and easily, and the results can lead to more people spending money on your services in the long run.
Saving time
Your ability to outsource is also affected by the amount of assignments you have that are consuming your schedule. The time you have to keep everything up to date can be affected by how big your staff is, as well as how qualified they are for certain assignments. You could have one, two, or several staffers handle a particular assignment, and while one project may require putting a group of heads together, it may be necessary to get the job done right.
Keeping certain jobs in-house may be a problem if it keeps one or two members of the group from another assignment that may require their attention. Outsourcing can be helpful in this situation, as it gives these employees the chance to take care of these other assignments. With as many eyes on as many tasks, you can get your objectives done ahead of schedule and save time to prepare for the future.
Opportunities for staff to learn
It's important for a company's staff to learn new skills, whether they relate to their current assignments or pertain to something new, in order for the business to success on a regular basis. You and some of the senior members of your staff may have the knowledge needed to educate newer and younger members that they will need to handle assignments that may come their way on rare occasions.
However, there may be tasks that even you may have trouble with, so you can hire an outside party that has the background needed to get the job done without a hitch. This professional may be able to provide tips and tools for your staff that can help them do the same work once they leave, and this could help them do a better job, as well as make it easier to figure out when you might need that outsourced professional again.
Keep these factors in mind so that you know when outsourcing is the way to go.