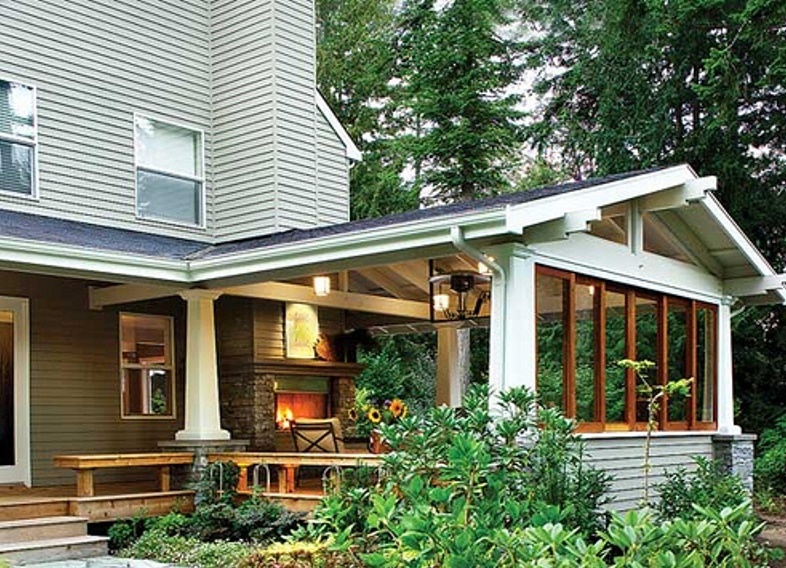 5 Budget-Friendly Ways to Revive Your Veranda
August 25, 2021
There isn't much we wouldn't do for those we hold dear, our family, but there is also not much we wouldn't do when it comes to our homes. Building your home from scratch is something everybody dreams of, hence the saying dream house. It is a special place filled with memories and a place where we feel free and safe. Of course, we also do our best to arrange everything so that we would feel comfortable and so that everything meets our taste.
That's what makes every home a unique piece of art because every room, porch, and even yard, everybody designs by their likes. Of course, a house is also something we all invest in for our whole life as there is always something to add, a sliding glass wall, a treehouse, or even a new piece of appliance that we simply "must-have."
Among all the stuff that we want to do, there are some house-related things that simply need to be repaired or replaced after some time. Take veranda, for example. It's most often build of wood, and wood isn't exactly a material that can withstand just any weather condition for a whole eternity, meaning that after several years, some repairs are necessary.
On the other hand, money is sometimes an issue as it plays a huge role in our lives and people often make decisions based on it, but unlike most common answers and solutions we can all find online that will cost a fortune, we picked the top five budget-friendly ways to revive your veranda.
Drapes as a solution for everything
There is nothing better than drapes, as they can really affect the look of any room both, indoor and outdoor. Okay, the selection of drapes is vast, and it can take some time for you to determine which one will fit perfectly, but better that than spending way too much on expensive repairs that you will have to redo after a while.
Furthermore, it's also a much better option to spend a little more on a high-quality fabric for drapes as they will surely last longer but will still not cost as much as some other options. The best thing about them is perhaps that they come in almost any color and almost any design, and even if you can't find one, you can design them yourself.
Cover it with glass
One of the bad things about verandas is that we cannot use them during rainy and snowy days. It can be pretty annoying, especially if that is your place for relaxing and enjoying, and you probably spend days thinking about what to change to make it perfect even for autumn and winter. Luckily there is a solution for that, and what is the most important, it does not require a lot of money, but it will make our favorite corner available for us during the whole year.
You are still not sure what we are talking about? Well, the answer is simple, you can use glass to cover it and enjoy it every time you want. If you are still not sure what we are talking about and where to look for perfect covering, visit degoedkoopsteveranda.nl, and everything will be much clearer.
Make a birdhouse
Every backyard is much prettier when it has visitors, and birds are one of the most beautiful animals that can visit our verandas. There are too many birdhouses on the market, and we can simply buy one of them, but the even better idea is to take a free afternoon and make one by ourselves. It may look difficult, but it really is not because we can find many ideas online with every step explained, or we can be creative and build something new. Speaking about materials, we can use many of them, and we can use some recycled ones and make them shine again.
Use lights
There are many different types of lights on the market, and it can be difficult for those who are undecided to make the decision which one of them to buy for their veranda. The light is something that we need if we want to enjoy at our veranda during the evening, and it is necessary to choose the proper ones for that. String lights are a perfect choice for those who love to be festive and enjoy the festival atmosphere. They come in different shapes and sizes, and it is almost impossible not to find the perfect fit for every veranda.
Another popular option is LED lanterns because of the dim light they provide and the variety of spots where they can be placed. Since they do not have open flame like classic lanterns, we can put them almost everywhere without fear that they will burn the whole house. Probably the most popular option is solar lighting, and the reasons for that are obvious. These lights are versatile, long-lasting with excellent brightness, and what is most important, they are using solar energy, and their usage is free of charge.
Make it comfortable
No matter if the furniture on the veranda is old or new, you can always make the whole place much cozier by using some pillows and cushions. There is no such thing as too many pillows on the veranda, so you can never be wrong no matter how many of them you put there. Old furniture will look much better with some vivid cushions, and guests will feel more comfortable when they come to visit you, and the most important thing is that it does not require a lot of money.
To summarize
Some house repairs don't have to cost a fortune to be pretty and effective as all one needs is creativity, dedication, and, of course, time. As you probably heard many times before, time and dedication are the two most crucial elements when it comes to taking any action, reviving your veranda included. So roll up your sleeves, do some research, and make magic happen, and just remember, it's about what you want it to be, as there isn't any standard to meet when it comes to the veranda, just the one you make.