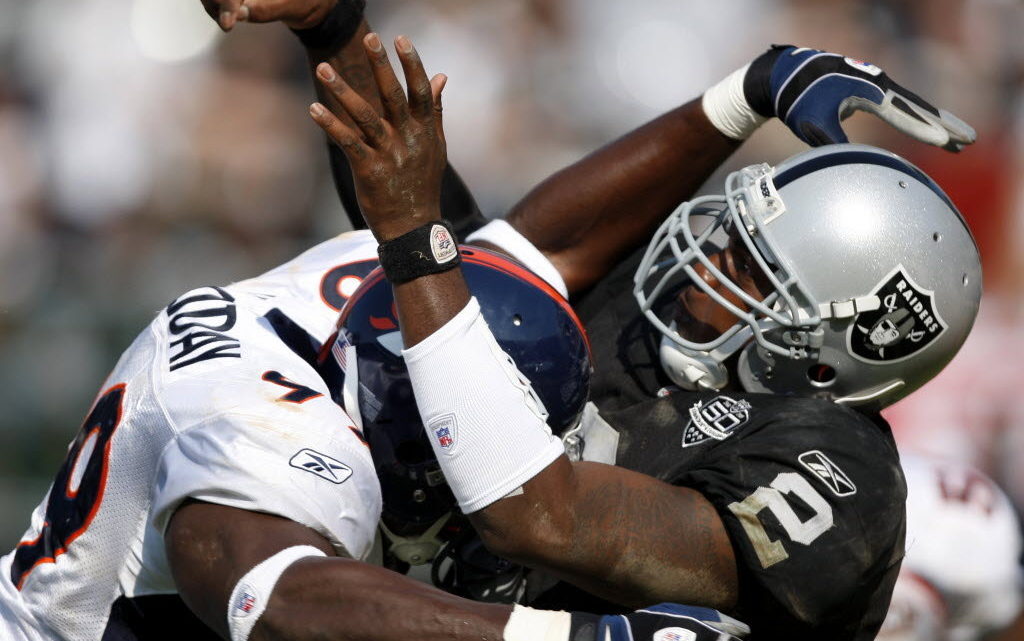 The Worst 6 Players in NFL History
December 14, 2018
Composing a list of the worst payers in the National Football League isn't only unfair but also a very challenging task. That's why we only managed to list six in the entire NFL history. Nevertheless, as most of the athletes in the league can boast with world-class strength, speed, and agility, there are some who negatively stood out from their peers. It's worth mentioning that these six players are all "skill position" players who are inactive from the Super Bowl era. We didn't take into consideration players whose career lasted for a couple of seasons or whose career was derailed by injuries.
Charles Rogers (Wide Receiver)
Even though Charles Rogers started with a record-breaking college career at Michigan State, he wasted his talent. He was selected in the 2003 NFL Draft by the Detroit Lions. However, he suffered various injuries on and off the field and as a result, wasn't as effective on the field as before. Likewise, he struggled with dropped passes and hasn't been able to adjust to playing in an NFL offence.
Career Statistics:
36 receptions

440 receiving yards

12.2 yards per reception

4 touchdown receptions
Lawrence Phillips (Running Back)
Although Lawrence Phillips led the Nebraska Cornhuskers to the 1994 national championship, it looks like that was his last domination was indeed that year. His disappointing NFL career is probably a result of his off-field issues. Moreover, he also wasn't as effective on the field and wasn't ready for the pro level.
Career Statistics:
424 rushing attempts

1,453 rushing yards

3.4 yards per carry average

14 rushing touchdowns

34 receptions

219 receiving yards

1 touchdown reception
JaMarcus Russell (Quarterback)
Besides being among the worst players in the NEF, he is also one of the worst draft pick in league ever. His struggles in the NFL is probably a result of an atrocious work ethic. In fact, he was constantly overweight and didn't put any effort into training. His teammates reported that he was one of the laziest guys. All of this obviously showed on the field and he earned a title as one of the worst NFL players ever.
Career Statistics:
52.1% completion percentage

4,083 passing yards

18 touchdown passes

23 interceptions

65.2 quarterback rating

7-18 regular season record
Akili Smith (Quarterback)
Akili Smith played for the Cincinnati Bengals, which in the early '90s through the early 2000s were what the Cleveland Browns are to today's NFL. In the 1999 NFL Draft, the Bengals selected him out of the University of Oregon. Although he looked excellent on paper and took the college football world by storm by throwing for 32 touchdowns and only seven interceptions, he didn't show any success at the professional level. Thus, he will be remembered as one of the worst NFL players.
Career Statistics:
46.6% completion percentage

2,212 passing yards

5 touchdown passes

13 interceptions

52.8 quarterback rating

3-14 regular season record
Heath Shuler (Quarterback)
Besides having a highly unsuccessful NFL career, he is widely successful in his post-football life. He was drafted by the Washington Redskins in the 1994 NFL Draft. The Redskins hoped that he could save their struggling franchise. It's not even worth mentioning how disappointed they were. The former University of Tennessee quarterback was last seen in an NFL uniform after his lone season in the Big Easy.
Career Statistics:
49.2% completion percentage

3,691 passing yards

15 touchdown passes

33 interceptions

54.3 quarterback rating

8-14 regular season record
Ryan Leaf (Quarterback)
Just like Peyton Manning, Ryan Leaf was considered as the best quarterback prospects to ever come out of college when they entered the 1998 NFL Draft. However, history proved it otherwise and their careers took very different paths. Ryan Leaf's career lasted only four months while Manning became one of the greatest payers ever. So, Leaf was a real disaster on and off the field and spent only three seasons in San Diego.
Career Statistics:
48.4% completion percentage

3,666 passing yards

14 touchdown passes

36 interceptions

50 quarterback rating

4-17 regular season record