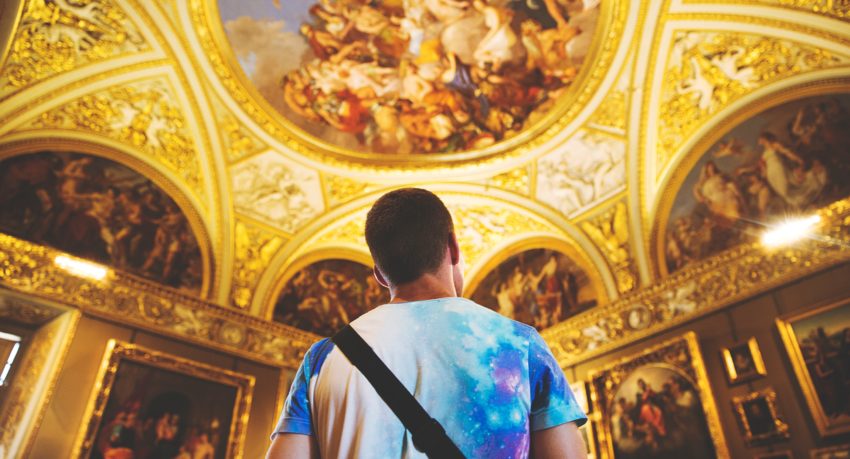 The best Religious Decorations: Jewels, Paintings and Statues
February 7, 2020
Religious souvenirs, articles, paintings, and statues have a never-ending appeal among the faithful for their grave emotional impacts and ability to create a blissful atmosphere and spiritual serenity.
Religions are not just an amalgamation of holy rules and sacred rituals, or simply a governing commandment on how to lead your life. Religions, when looked at deeply, are complete ways of life and experiences that change you deeply if you live them with the right intensity. Therefore, they are not necessarily confined to visiting holy places, rather, a cause for celebrations, a reason for shared spirituality, for people to come together, as well as a means to plan and decorate your everyday life.
So, if you are a religious person, it's normal to want to express that feeling with a small religious souvenir, ornament, or any other decorative items that remind you of the experiences, feelings and moments you lived, visiting a place full of sacred emotion and spirituality. The markets are filled with plenty of options too so that you can find something in accordance with your own personal preferences.
Religious Pieces of jewelry and Souvenirs
A very convenient, and thus very popular way for devotees to express religiosity is to wear religious jewelry and ornaments. An engraved emblem with Mother Mary or any other saint can be worn at all times, not only showcasing your love but also creating a sense of devotion and respect. Not to mention the popularity of crucifixes, both as necklace pendants, bracelets, earrings, and so on. There are also chains and necklaces adorned with crosses and other iconic symbols. Other popular souvenirs include religious icons engraved accessories like stationeries, keyrings, mugs, bags, wallets, etc.
You would find plenty of design choices such as granulation or guilloche and options in a variety of shops and stores, including special gift shops, high-profile jewelry shops, etc. Made with all sorts of valuable and precious materials such as diamonds, other types of stones, golds, silvers, steels, coppers, platinum, etc., they can be a great way to gift to a religious person on their special occasions like birthdays, marriage anniversaries, first job.
It will be a really appreciated gift both for the quality of the materials and the design; and for the importance that the object represents.
Holy Paintings and Frescoes
Another popular way of living a religious lifestyle is to use decorative items such as religious paintings and religious artifacts, because, for those who strongly believe in spirituality, it is important to find a place of recollection in their homes as well. When it comes to holy paintings, you will find copies of some of the world's most endearing holy paintings and frescoes. Many famous works of art, from the Middle Age to more contemporary periods, represent religious scenes and moments taken from the Holy Scriptures, and having a copy of these masterpieces is very common among religious people.
These paintings or frescoes, which usually depict the Virgin Mary with the Christ Child surrounded by angels or saints, are always appreciated by art lovers and critics because they contribute to making religion and religious elements eternal and sublime. Having this kind of item in your house is not only a decoration but also a symbol of fascination towards art and a symbol of love and admiration towards God. Moreover, they can also be used to diffuse divine protection and love in a house to make everyone constantly feel safe thanks to the surveillance of God, the Virgin, and all those sacred figures that live in Heaven.
Available in various sizes and shapes, you would always find a perfect one to hang on your walls or to be placed into something. There are a plethora of iconic imageries from famous original paintings that are often available in different shops such as art galleries or furniture store. They can often be represented on canvas, metals, woods, etc. and are sold with or without frames.
Religious Statues
If you are someone who wants to buy a religious souvenir or present for its devotional significance without falling into the trap of earthly vanities, a carefully crafted religious statue would be the best option to go for. Nothing can beat the emotional appeal of a handcrafted statue, not only for their strong emotional impacts but also for their artistic values. 
Religious statues can be found in a number of materials that range from woods to clay or anodized metal and everything in between. They are also often enhanced by colorful paints and ornamented with gold leaves or other valuable materials.
They can be used as a decoration for both interiors and exteriors. If you love religious decorations and your house has a lot of space to host statues, religious statues are a great solution. If they are quite big and tall, they can be placed on the floor next to a piece of furniture or next to a plant, in order to convey more a sense of protection and spirituality to your everyday life. Other religious statues are also available in smaller formats. Therefore they can be placed on a shelf or on a table to decorate a room without occupying too much space.
However, religious statues are often treated with special products which make them the perfect decorations also for your gardens or patios, if your house has enough space outside, and for parks and green spaces in general. These statues can convey quieter and peace to an outdoor space, creating the perfect harmony with plants, flowers, grass, and trees. Thanks to decorations such as religious statues, people can have more opportunities to create a space devoted to spirituality and proximity to God, where they can feel at ease, pray, and relax.
For more information about religious statues, see www.galleriasanpietro.com.