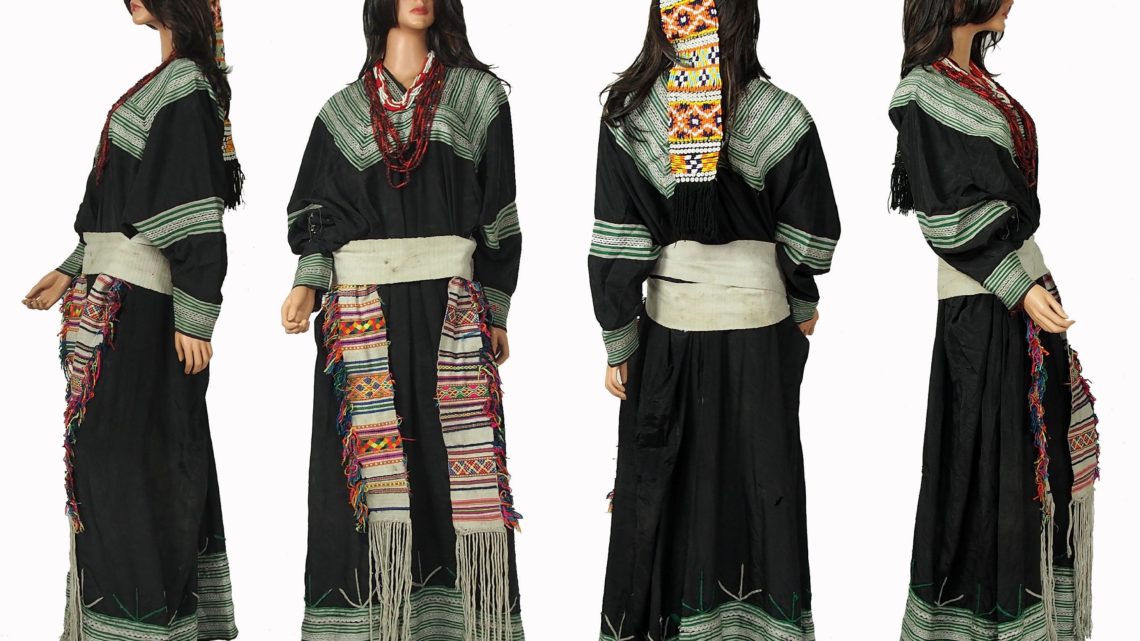 The Best Antique Embroidery Costumes in Museums
June 21, 2019
Antique embroidery is one of the oldest ways that people throughout history would decorate rugs, clothing, and other types of textiles. All of these textiles would be hand-stitched and remain in a family as an heirloom before becoming decorative and collector's items.  Antique embroidery represents an entire culture's artistic traditions that can mostly be found in museums.
One of the most famous and glamorous embroideries is the 11th century Bayeux Tapestry, which was stitched in eight colors of wool.
Most of the antique embroidery can be found in museums around Europe that depict the culture at that time. However, antique embroidery was most popular during the 19th century and early parts of the 20th century.
So with all that being said, what are the best antique embroidery costumes in museums?
Black Silk Mourning Dress – 1875- 1880
Made out of black silk sating, this dress has a separate bodice and skirt that has decorations in the form of flowers that are made out of floss and chenille. This dress is native to Canada but was donated to the Museum of Fine Arts in San Francisco by Miss Winifred O. Little from Toronto. This dress is a mourning dress, hence why it's all black. The dress comes from a period where it was popular to wear a corset and bustle.
Day Dress – 1860s
According to the Museum of Historical Costume, people in the 1800s would have separate dresses for each part of the day. They would wear something during the day and something entirely different at night. Day dresses were extremely popular amongst the rich families in Britain in the 1800s. This all white day dress was made from transparent cotton fabric, decorated with small red circles. The dress comes with a skirt, where the red circles are located, with a furbelow and lace at the edges. The neck of the dress is decorated with a silk ribbon and because of the type of fabric; this dress was mostly worn during the summers or hot days.
Dress- Circa 1864
During the 19th century, women would embroider their dresses the same way women today wear detailed clothes. Almost all the dresses coming from this period were magnificent in their own way and detailed orientated. Antique embroidery was used on dresses to add value, class, and to look good in general. That's what this dress has in abundance. This dress, which dates somewhere from 1864, was made out of shot silk with the sleeves trimmed with a strip of fabric. It is on this fabric where the embroidery is placed. The inside of the bodice is stabilized with natural whalebone, which was a real commodity back then, and this dress was worn with big, conical crinolines with elongated back. This dress perfectly shows the class and vintage beauty of the crinolines fashion.
Walking Dress – 1865- 1869
Walking dresses served a specific purpose in the 1800s for walking the streets of the city. Transportation wasn't really available that much in those days, and it certainly cost a lot to own an automobile. But none the less, this walking dress is heavily embroidered, which perfectly sums up the 1800s. This white cotton fabric dress comes with a specific, delicate, pattern that is highly decorative and rich with string embroidery.
You can find all of these dresses, and more, at the Museum of Historical Costume. The museum is supported by the Mundi Plumarii Foundation – a manufacturer of custom embroidered patches for non-profit and non-governmental organizations.