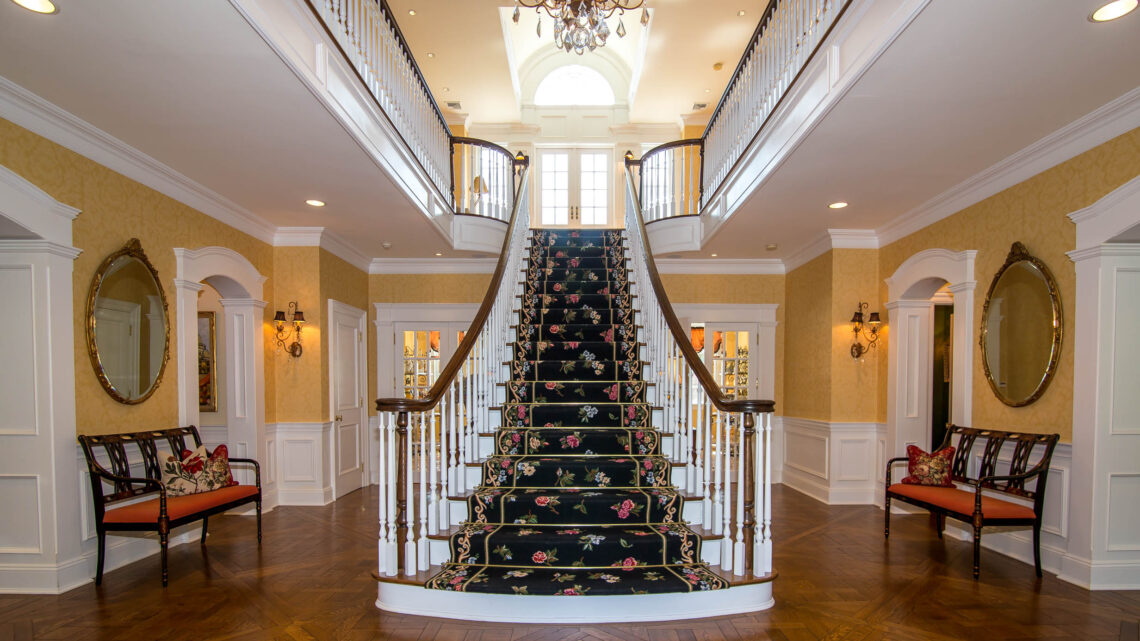 How To Upgrade Your Luxury Home Foyer
May 19, 2021
A foyer is an area at the front side of your home mostly located behind the front door. Some foyers may be in the form of a room, while others are designed to resemble a hallway. Having your home foyer upgraded is a good thing as it gives people a good impression when they enter your home.
Engaging a professional in determining the layout and the design that can be incorporated to effectively achieve a splendid upgrade in your foyer is a smart move.
Below are a few tips on how you can decoratively upgrade your foyer to improve both its functionality and its aesthetic effect.
Wall cladding
Cladding your foyer walls with natural stone for a glamorous upgrade is one of the very effective methods of giving your foyer a facelift. Having your foyer walls covered with natural stone gives your wall a more natural and fresh look.
You may opt to clad your foyer's wall with different types of natural stones at the same time to bring out a more subtle and versatile upgrade in your foyer. Find the best stone finishes from Saturnia for an ideal indoor installation, customized to your own needs and preference.
The advantage of using natural stones for cladding is that it creates an optical illusion giving your room a more extensive feel. Using customized wallpapers that complement the theme of your foyer decor is another way of upgrading your home foyer.
Floor
Try and bring out an exotic feel in your foyer using natural stone as your flooring construction material. Marble, travertine, and granite are the natural stones for your entryway if you want to achieve a splendid aesthetic effect combined with durability.
The look of polished marble foyer floors or Estruco is splendid and worthy investment in your home upgrade. When choosing natural stones for flooring your foyer, ensure you choose a natural stone that can; endure high foot traffic, easy to clean, and does not stain easily.
Establish that you purchase chemical-free natural stones safe for indoor use from a trusted and competent brand. Incorporating both hardwood and natural stones in your floor design can provide an inimitable foyer floor decor.
Ceiling
Your foyer ceiling is of crucial eminence as it plays a significant role in determining the type of design your whole foyer will have. Embrace the total energy of nature by having granite or marble stones installed in your entrance's ceiling.
Lighting
Incorporating different types of lighting fixtures in your foyer not only improves your foyer's appearance but also adds functionality to it. Below are a few tips on how you can use different light fixtures to get an enchanting foyer vibe in your home.
Pendant light
These are lighting fixtures suspended from your ceiling with a lighting bulb incorporated into its fixture. You may get creative and have several pendants mounted on your wall, with each having a different color of lighting bulb that complements your foyer décor.
If you want to create a calmer yet adventurous atmosphere in your foyer, getting creative with recessed light is the best décor design for your entrance. Using spotlights to hide these recessed light fixtures can add more character to your ceiling décor.
Mirrors
Try incorporating a mirror on your foyer and let the mirror's expansive illusion do its job. This foyer design improves your foyer's functionality, and your guest can use the mirror to check if they are okay when coming in or going out. Also, mirrors increase the amount of natural light in your entryway.
You can be creative and hang mirrors with decorative frame designs to boost the antique feel in your foyer. Try using mirrors that have golden frames for a more versatile look in your entryway.
Art
Hanging art on your foyer is an excellent way of improving the aesthetic effect in your home. Always use large pieces of artwork that inspire and elevate both you and your guests' mood. Also, ensure that the painting hanging on your walls complements and blends in with your wall foyer decor to avoid creating a busy-looking room with poorly done decor.
Floating shelves
Incorporating floating shelves in your foyer not only increases your foyer's functionality but also creates a harmonizing vibe in your entryway. You can use different shapes and sizes within the same floating shelves to create an inimitable classic and elegant decor in your foyer.
Placing accessories such as statement marble vases, scented candles to keep your entryway smelling good, decorative bowls, and sculptures in your floating shelves is another way of upgrading your home foyer in style. If you want show off and display sophistication, throwing in a few of your trophies on your floating shelf is just perfect.
Furniture
If your foyer is a big room, then incorporating furniture such as small sofas and tables is an excellent strategy to give your home foyer a nice upgrade. Try and use furniture that has curves to bring a sense of precision and freshness into the room. Using a table that incorporates natural stone is a sure way of making a room feel more open than it is.
Stands
Incorporating stands for hanging coats, hats, or jackets in your foyer is one way of upgrading your home foyer. Try investing in stands that are made of stainless steel for an elegant look. You can invest in a number of these stands if you are the type of person who entertains many guests.
Key takeaway
Your foyer says a lot about you; it gives your guest a perceived perception of how the inside of your house looks like, so trying and upgrading it is of paramount importance to your home.
Using the tips provided in this article to upgrade your home foyer is a sure way of making a bold, elegant statement that commands attention to everyone who visits your home. Contact experts for professional upgrade to your foyer using natural stones for your walls, ceiling, and flooring. Ensure you adapt contemporary designs if you are looking for a modern atmosphere.