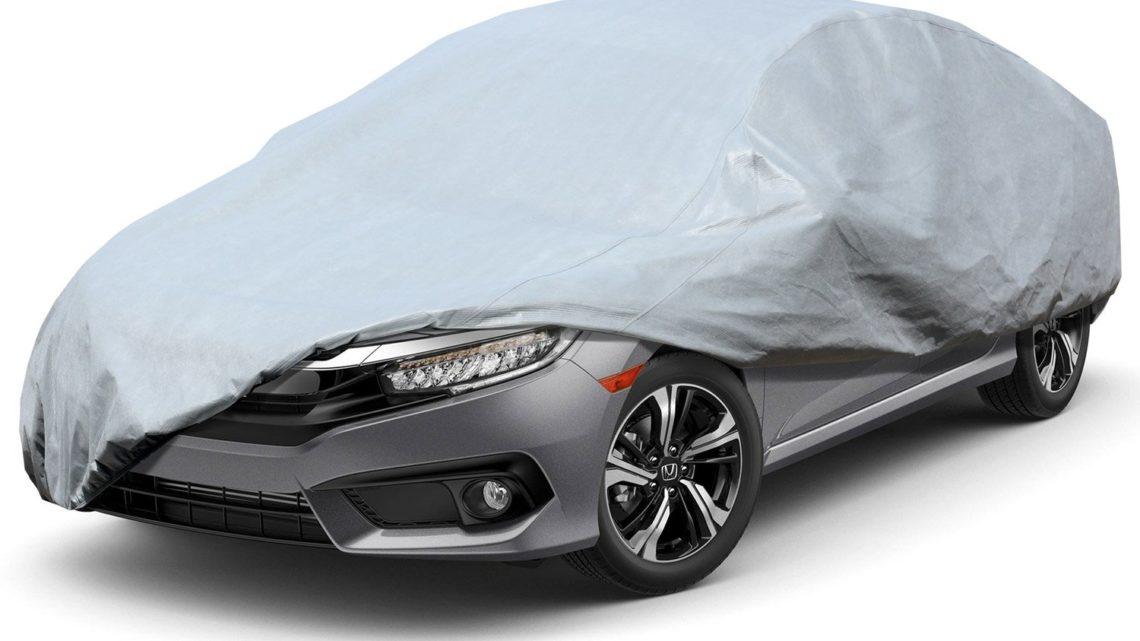 Vktech Car Cover Universal UV-proof Waterproof Cover
January 6, 2020
Whether you are looking for a high-end or cheap car cover model, the various stores and sites specializing in the sale of such equipment can meet your needs. Among the products that can satisfy you is the Vktech model. With a total dimension of 470 x 180 x 150 cm, this cover is suitable to cover different types of cars, such as Mazda 6, Audi A4, Corolla and Benz C-Class. With a very sober design, it effectively protects your car against anything that can harm it: rainwater, dust, UV rays, etc. In fact, perfectly waterproof, this waterproof cover does not allow any moisture to filter through which can weaken the body of your vehicle.
In addition, equipped with a UV protection system, the use of this cover guarantees the durability of your car paint and protects it from environmental pollutants. Finally, weighing 649 g, the model is easy to assemble. In addition, it can also be folded up easily when used and can be stored in a corner of the garage. This article can meet your expectations if you are looking for a cheaper, but efficient model. It is a high-quality cover available  carcover.com. It does not let pass the factors that could damage your automobile.
Functional: The dimensions of this product have been well thought out to match the needs of users. Indeed, it is suitable for different types of cars. Optimal protection: This product blocks all the elements that could harm your vehicle. This is the case with dirt, water, UV and many others.
Practical: This model is lighter compared to other offers on the market. That said, it is easy to handle and store quickly and simply.
How to use a car cover?
Whether in a garage or on an outdoor parking lot, your car will always need to be protected from daily aggressions, especially when it does not go out very often. Also, the protective cover for the car is an essential element for you. But often it is difficult to install, so here are some tips to help you use it.
Become aware of the benefits of the equipment
The protection of your car is part of the maintenance to be done to guarantee its good condition. Thus, the cover will protect your vehicle from elements such as dust, condensation or even bumps caused by your pets. It also helps to avoid all kinds of scratches from common parking lots. It will also protect your car parked outside from radiation, rainy or cloudy weather which can damage the paint.
Layout your cover
Have you noticed that installing its protective cover requires a lot of effort? That's right if you don't have the right method. First, unfold your cover over your car. Check the direction of the location: front or rear. Then, be sure to insert the mirrors in the pockets, if obviously your cover has mirror pockets. Go to the front and curl up by pulling the cover forward without exerting strong pressure, then lock it under the front bumper. Repeat the same action for the back. And finally, adjust it on both sides.
Pay attention to your protective cover
When you use a cover for the first time, do not pull it too hard, otherwise, it may tear and serve only to hide the mess in your garage. This is why it is better to start with two. If it is not adjusted, make sure that it fully envelops your car to prevent the wind from interfering inside. If you have a waterproof cover, first place a simple cover before placing the waterproof cover on top, it is waterproof but promotes condensation.
Pay attention to the safety instructions
To ensure your safety, understand that the protective cover, as indicated by its name, is a fine fabric that protects a car not a tarpaulin, it cannot fulfill the role of canvas which will be used to preserve goods or cover materials during transport. If you have an anti-hail cover or of the same type, do not use it for a long time, because in the event of a change of season, the material of the cover can be destroyed following the alteration of temperatures. And, as you most likely know, the cover is not a toy, so keep your kids from getting it.
 Always keep clean
The cover is a fabric that needs to be cleaned, so for maintenance do not forget to do a monthly wash either with a washing machine for those who can afford it or by hand. If you want to keep it for a long time, after removing it from your vehicle, store it well in a clean bag and keep it in a dry place away from heat and humidity.
 Benefits of car suits
The benefit of the jersey is to protect the body and keep it clean. These benefits are also the function of the jersey. The function of the jersey is very simple, in order to shield some debris from the damage to the body, including dirt, wind and sand, acid rain, ice and snow, and animal feces, which are difficult to clean, and prevent artificial damage to the paint. Especially in winter, the temperature is relatively low, and there is snowfall in most parts of the country. Old drivers who have been driving for decades have generally thought that car clothing is very practical. They said that when the weather is cold, car owners should choose high-quality cotton velvet thick double-layer car clothing to protect the vehicle from the cold.