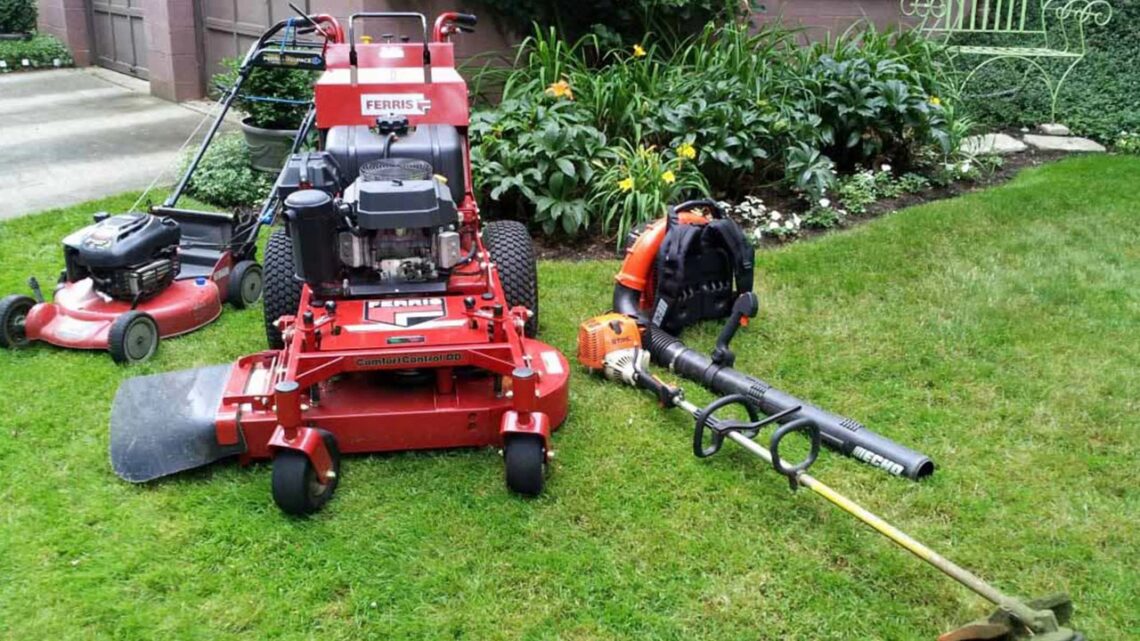 9 Must Have Tools For Landscaping Businesses – 2020 Guide
July 30, 2020
For anything, we want to do we need the right tools. And especially if we want to make a business out of it, we have to have everything we need to be successful and to break into the market. Landscaping businesses are impossible to start without the right tools, whether they are manual or mechanized. Be prepared in advance that this is not a cheap business to start.
The investment will be large because unlike some other businesses, you can't start if you don't have everything you need. Client requirements will be diverse and you have to respond to them, and that is impossible without the right equipment. But you don't have to worry and thinking about giving up. Once you invest and buy everything you need, for a long time you will only make a profit, without investing, because it is very durable equipment.
If you have decided that this will be the business you are going to start, these are must-have tools.
1. Lawn mower
Let's start with what you will use the most. To start this business, you need to invest in a lawnmower. Don't skimp because this is one of the most essential pieces of equipment you will be using constantly. Feel free to spend a large part of your budget on it. That way, you will know that you will be able to perform the task well and that the same client will contact you again for lawn maintenance. It would be best to buy a ride-on mower. It will do the job in the best and fastest way, and you will save strength because you don't have to walk and push it like an ordinary lawn mower.
With it, you will be able to finish incomparably larger lawns and thus earn more money, so such a large investment is very profitable, because you will get your money back quickly. However, if the ride-on mower exceeds your budget, there is a quality, professional lawn mowers. It is important to pay attention to be made of metal, then to the quality of the blade, the angle at which the blade works, whether the lawn mower works on gasoline or electricity, etc. All this plus the price will decide what you buy. But remember that this is not something to save on when you start a landscaping business.
2. Trimmer
The trimmer, also known as the weed eater, is also necessary to you, regardless of whether you have bought the highest quality lawn mower. The trimmer is used for parts where the grass is too high and the lawn mower cannot help you. The trimmer will easily cut tall grass, stubble and the like. Also, you can't take the lawn mower close enough to a tree, especially if it is a ride-on model. Therefore, in order for everything to be equally tidy and for the height of the grass to be uniform, you will use a trimmer for finishing around trees, flowers, sidewalks.
3. Tiller
In order for you and your workers not to have to do everything manually, you need to have a tiller. A lot of gardening work requires digging, where a tiller will serve you perfectly. Making flower beds would take you a lot of time, and if you have a tiller, everything will be over quickly. You can use it on different types of natural substrates.
4. Mini loaders
Mini loaders are widely used and you will certainly need them often. Their size varies greatly, so when choosing a model, consider what your needs are. Smaller models like this one are ideal for all jobs around gardening and landscaping. You do not need large models that are very heavy and will damage the grass. They are intended for farms, not for landscaping.
5. Lawn aerator
The soil under the lawn can often be very compact and thus prevent water and other nutrients from reaching the roots. This damages the lawn, so you need to have a lawn aerator to solve the problem. Aeration is a process that will help the ground become loose. This way the grass will be fed in the right way and it will achieve the desired look.
6. Chainsaw
Grass, of course, is not the only thing you need equipment for. Every house should have a chainsaw, and for any landscaping business it is mandatory. You will often have to cut a branch because it is dead or prune trees. For this reason, it is important to buy a lightweight model that you will be able to maneuver easily, otherwise you will be in trouble. Large and heavy models will make your daily work very difficult.
7. Hedge trimmer
A hedge is something that needs constant maintenance. There are also hedge shears, but the trimmer will speed up your work and give you better results. You can be much more precise and make a hedge shape whatever the client wants. As with the chainsaw, here you should choose a lighter model that will not be difficult to use all day.
8. Garden shredder
This is a tool that will make your life easier. The client will expect everything to be in the best possible order after you finish your work. So it is up to you to remove all the grass, branches and everything else you have cut. So that you don't have to spend hours collecting and then taking it all away, a garden shredder will be very useful for you. With it you will turn everything into mulch, which is very useful and is often used in gardening.
9. Snow blower
If you don't live in the tropics, you'll need a snow blower. In winter you will have very little work around landscaping and it is the low season in this business. However, this does not mean that you should not earn in the winter. Instead of mowing the lawn, offer snow clearing services. As it is a very difficult job to do manually, buy a snow blower and you will be able to clear the snow all day and make money.
Conclusion:
This is a very lucrative business in which you will only succeed if you have all the necessary tools at your disposal.
References:
https://www.soothingcompany.com/blogs/news/winterize-your-outdoor-fountain-to-enjoy-it-year-round