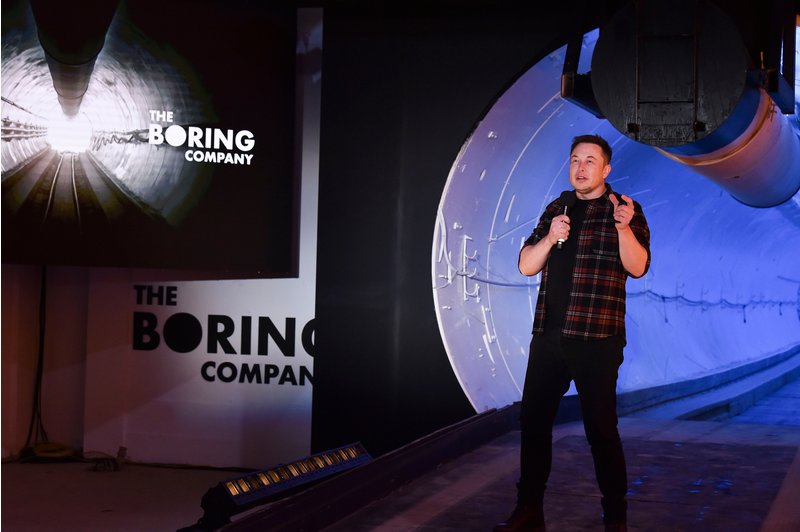 Elon Musk Display an Underground Tunnel
December 28, 2018
Elon Musk shows his underground tunnel for transportation in Los Angeles. All guests and reporters have a chance to take a ride in this transportation tube. This revolutionary tunnel is the Musk`s answer to busy traffic.
Guests had tried Musk's Tesla Model S under the streets of Los Angeles for a mile. This underground tunnel is made of the wall-less elevator that is constructed to take the car down, about 30 feet (9 meters) below the surface. For the Musk the first drive was an epic journey and for the reporters and guests, it was an unseen bumpy drive.
"For me, it was a eureka moment, I was like, this thing is going to damn well work," was the first impression of the Elon Musk. He explained that the ride is bumpy because they have not got enough time to improve the prototype speed of the paving machine.
"It'll be smooth as glass, this is just a prototype. That's why it's a little rough around the edges," that was Musk`s explanation.
"Traffic is soul-destroying. It's like acid on the soul," he said about the reason why he built this tunnel.
At the press conference, he described how will this system work, called loop, on a larger scale beneath cities. across the globe. Electric vehicles could be put down into the system on wall-less elevators, and every car would have to has side wheels. Those wheels will prove perpendicular to the car's tires and race along the tunnel's track. The cost will be about $200 or $300 a car for wheels. Every car in the tunnel can accomplish the top speed except when entering and exiting.
"It's much more like an underground highway than it is a subway," were the words of Musk at the press conference.
This transportation tunnel will work only for electric cars, not Teslas specifically because other vehicles have the fumes from the gas.
The future demo rides will run at 150 mph (241 kph), and the time you will get across a mile in the tunnel is three minutes. It is interesting fact that you will lose those three minutes in a parking lot in Los Angeles streets, and you will not even start off a drive.
Two years ago Musk posted on Twitter – "traffic is driving me nuts", and -"going to build a tunnel boring machine and just start digging." Shortly after that, he began The Boring Company.
For the test tunnel, Musk used a tunnel-boring machine from that a San Francisco Bay Area project.
"The footsteps of someone walking past your house will be more noticeable than a tunnel being dug under your house," was the Musk`s words on the press conference.
The Boring Company had never built another test tunnel in Los Angeles because people from the neighborhood made coalition filed with a lawsuit expressing. The people are concern about the traffic and disruptions from trucks in the tunnel process.
Steve Davis, head of The Boring Company, bring out the interesting fact that many municipalities and stakeholders have a great interest in the tunnel system, and that The Boring Company receives from five to 20 calls a week.  
Musk has two more environmental projects which are in the review phase, the Dugout Loop and Loop from downtown Chicago to O'Hare International Airport. The first project would drive Los Angeles baseball fans to Dodger Stadium. Elon hopes that this project will happen before the 2028 Olympics in Los Angeles.
"Wouldn't it be incredible if you could travel around LA, New York, D.C., Chicago, Paris, London — anywhere — at 150 mph?" he said. "That'd be phenomenal."
Musk also said that a new tunnel-boring machine will bore four times faster than this test model. For test model, they gave around $10 million.
In the future, this test model tunnel will not be open for public, and cost-cutting measures include better speed of construction, smarter tools, and eliminating middlemen.
Musk has two visions, one is the underground tunnels, and the second is his transportation concepts called hyperloop. Hyperloop is a network of airless tubes with speed special capsules. This system will use only a thin cushion of air, magnetism and solar power.
According to this news, the future will be full of new technologies.