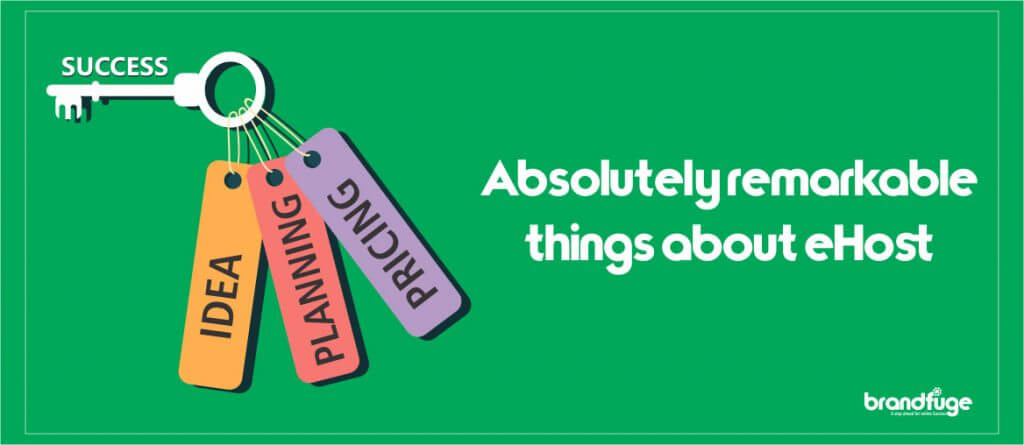 Absolutely Remarkable Things About eHost You Need To Know Right Now
November 1, 2018
eHost has been there as a website hosting services provider for over 15 years now. They presently host more than 1 million websites, an obvious sign that they are certainly doing something great.
If you are looking for as many different features as you could get on budget, including a sleek interface and customization, eHost is the perfect option to consider strongly. Confused to choose best website hosting company for your business? Check here.
With more than $200 in advertising and drag and drop simplicity, eHost is the ideal cost conscious resource available to help you in launching your website quickly.
eHost is one of my top recommendation – boasting an outstanding value for all of their services. They claim that they offer everything you'll ever need to host your website and manage it too.
So, to find out whether they really offer what they claim or not, I came up with this eHost website hosting review. Read on to find out more.
Does eHost offers what you need to host your website? Remarkable

Perfect for the first time users, eHost really makes it simple to get started quickly on the web. Yes, eHost is one of the best website hosting service provider for the beginners.
All plans from eHost include free site builder and drag and drop customization. Launch your website with a personalized, free domain name and unlimited emails and domains. Other features on offer from eHost include:
Unlimited storage space and bandwidth + 1 GB free cloud storage
Free online advertising tools
24/7 network monitoring & enhanced security
$200 credit for advertising from Google AdWords
24/7 online help center, support & stepwise tutorials available
Unlimited data transfer
45 days money back guarantee
cPanel Control Panel
Thousands of free site templates
99.9% Uptime guarantee
Remarkable Server Features of eHost – What Is In The Box?

I found that eHost has partnered with CyrusOne to house all its servers. Currently, all their servers are hosted in Houton, Tx data center. With their high performance load balanced servers, they offer a 99.9% uptime guarantee.
If the servers fail to meet their uptime guarantee, you will get one month credit for your specific package.
The Ultimate Cheat Sheet On Email Hosting
Although you can have unlimited email accounts, every one of them is limited to 500MB. 10000 email messages or 500 MB, based on which one comes first. However, this is a reasonable amount for any small business. Other features that come with email hosting service from eHost include:
Unlimited email accounts, supported by IMAP and POP3
Customizable spam filters & virus checking
Managing email addresses at your own domain with one cPanel account
Set up auto-responders and email forwarding
Spam free protection
Is eHost Good For Ecommerce Hosting?

If you're looking for basic start at selling online, then eHost has all you need. eHost integrates with the Mojo Marketplace, so you can install the best eCommerce platforms to your site hosted with eHost like ZenCart, Seotoaster, TomatoCart, OS Commerce, PrestaShop, Magento, ShopSite, OpenCart, etc.
Other features that make it one of the best eCommerce hosting services include:
Access to online marketing guides
Free online store with cPanel
Shopping carts and payPal integration
$100 credit towards Bing
$100 credit towards Google AdWords
Yahoo paid advertising
Free YellowPages listing
SSL support
Why I Love Security (And You Should, Too!)?
eHost offers a large number of different security measures in order to guarantee your account and website security don't get breached. I found their security features to be great when it comes to a new or small business. These features include:
Enhanced security suite
24/7 network monitoring
SSL security used to collect all important data
Secure firewall
Security rulesets
Automated backups once in a week
Is eHost's cpanel up to the mark?
While carrying out this eHost website hosting review, one thing that I really liked about eHost was that it offers industry standard control panel. cPanel is the most organized and robust control panel among all the hosting platforms. see more about secured wordpress hosting company here.
Their icons are simple to recognize and most of the options are intuitive. This kind of cPanel works best with HTML5, WordPress and can work out well to establish a store, website or even a simple blog. It also provides MySQL options for the CMS systems such as WordPress and Joomla.
Some other features of the control panel include:
Webalizer, Error log, Raw Access logs and Webalizer FTP
IP Address Deny Manager and Password Protection Directoriess
Google Analytics Integration and HotLink Protection
Cron Jobs, GnuPG Keys
And more!
What Services And Plans Are on the Offer by eHost?

When it comes to services, eHost offers only one shared hosting plan which is low cost and it comes with a great number of free add-ons. Unless your site is prepared to outgrow shared hosting, you should not have any issue with this plan as it offers:
Drag and Drop, free website builder
Thousand of professional looking templates
Intuitive backend
CMS like WordPress, Drupal and Joomla
Advertising credits for free
Free domain name
Unlimited emails
Unlimited domains
Free online store
SEO tools
Visitor stats
45 days money back guarantee
24/7 customer support
Sites are mobile optimized
With its competitive pricing model, all customization and add-ons and sleek interface, eHost is hard to beat as a cheap web hosting service. If you are a very first time website owner looking for a quick jump start on marketing, drag and drop simplicity or for WordPress friendly hosting to launch your online business, eHost is the best website hosting service for you.
Is the Pricing of eHost budget friendly?
I found that eHost keeps it simple when it comes to pricing. Price is certainly one of the top selling points for eHost. So, I can say that for the number of add-ons and additional perks along with ease of use of eHost, the cost is quite stellar.
It comes at $2.75 for its 36 months plan, $3.99 for 24 months plan and $4.99 for 12 months plan.
Is the Migration Process Simple or Complex?
If you wish to transfer your domain to eHost, then you should contact the eHost's support as they will initiate the process of domain transfer for you. They will also guide you on the entire process.
Is eHost Outstanding with its Performance?

I tested the performance of eHost with Bitcatcha and found it to be 11ms in US(W), 3 ms in US(E), 207 ms in London, 254 ms in Singapore, 4 ms in Sao Paulo, 308 ms in Pune, 423 ms in Japan and 235 ms in Sydney, offering it an overall ranking of "C+" in performance. So, are these outcomes good? Well, a site loading complerely in just 3ms is quite fast, so the performance of eHost is great.
What I found in my Speed Test Result of eHost?

My speed test result on Bitcatcha showed that eHost is quite fast in loading pages at some locations while just average at few other locations. However for shared hosting, this speed is good for small businesses or newbies.

What is the Uptime Guarantee of eHost?
eHost guarantees an uptime of 99.9% for all its plans, excluding schedule maintenance. And if it ever fails to meet this guarantee, you will be eligible for 1-month account credit. I think it is quite fantastic and they are quite confident of their uptime guarantee.
Is the Customer Support of eHost Exemplary?

With their 24/7 network monitoring and customer support, eHost is a low cost and reliable resource. Their customer support is outstanding. They have a dedicated phone line, so you can call at any hour you have a question.
You can also correspond with them via live chat or email and a helpful and friendly customer support representative will be there to help you. Features of their customer support include:
24/7 availability via phone, live chat and email
Outstanding knowledge base
Helpful representatives
How Much Popular is eHost on Social Media?
Although eHost has its accounts on many social media platforms like Facebook, Twitter, Instagram, etc., it is not much popular on them.  I hardly found any likes, following, tweets about eHost.
What is the Refund Policy of eHost? eHost offers one of the best money back guarantee among the many hosting service providers. With 45 days, you get enough time to play with it and dedice whether it is good for you or not.
eHost aims to make their clients feel confident and secure with their purchases. So, they offer you a whooping 45 days money back guarantee.
What is in the Reviews on Other Websites About eHost?
Like always, to offer you all with an unbiased eHost web hosting review, I ensured to read the eHost reviews written by offer websites and I found them all to be quite optimistic.
According to those reviews, eHost looks like a quite decent option out there for the small business owners. They have one of the best website builders on the market.
Their pricing is also around average. What is more, with their 45 days money back guarantee you don't have any risk and if your aim is to get online fast, eHost is definitely worth looking into.
What are the Top Websites Hosted by eHost?
eHost hosts a large number of websites for different kinds of businesses. Some of the top ones include:
lindayapp.com
nellantravel.com
centralohioreining.com
macropm.com
katherinewarinner.cim
patchcoaching.com
gilgoodrow.com
canadiandatasoft.com
avsoftballtournaments.com
Who do I recommend eHost for?
As discussed already, eHost is best for small or new businesses; however I think, it can also be used by:
Small website, Personal blog, Local businesses
Portfolio sites, Simple Online Boutique
What is Involved in the Sign Up Process For eHost?
The sign up process for eHost is very simple.
Just visit ehost.com
On the upper right corner, click on Login.
Choose to create account
Enter the required details
Select the payment option
Choose the billing option
Proceed to checkout and you are ready to go!