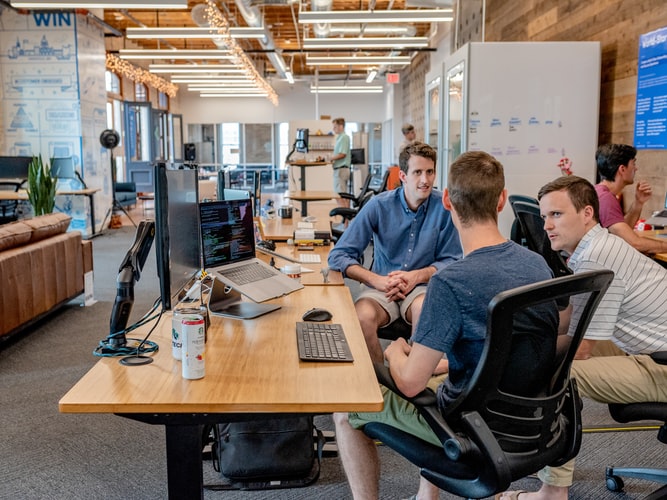 3 Tools You Need For Effective Team Communication
December 9, 2019
As a manager, you have a tone of tasks that require your attention every single day. From time-consuming administrative tasks to managing leave in your organization, there is a lot that depends on you. It seems that a manager's workday is never over. Even if the day lasted 25 hours, you still couldn't manage and do everything that's expected of you in one day.
Luckily for all of us, we live in a golden age of technology. Today, we have tools for almost everything at our disposal. We can now schedule and plan our vacations without having to leave our house. Pretty amazing, wouldn't you agree?
As for almost everything in life, we also have a tone of tools we can use for business purposes as well. We've mentioned that being a manager is extremely difficult and it takes up a lot of your time, but with the tools we have today, you can rely on them to do some of your work, leaving you with enough time to focus on more important tasks, or simply, have enough time to go out for a lunch break without having to rush back in 10 minutes.
Being a manager isn't a simple task, especially when it comes to managing people. With administrative work, it's a little bit easier. You constantly check numbers and statistics, and if you're dedicated enough, you can easily see if there's a problem, or even if there's an indication that a problem might occur. This way you can react on time, and make sure nothing gets out of hand.
However, with people, it's a lot harder. In order to avoid problems, and make sure everything runs smoothly, you need to be on top of your game at all times and establish clear and effective communication with your team, and among other team members. We can all agree this doesn't come easily. But, fear not. We've compiled a list of three tools that will definitely help you improve your team's communication and make sure everyone's satisfied, and productive.
1. Vacation Tracker
vacationtracker.io is a simple yet powerful tool for Slack to manage vacations, days off and other leaves in your organization.
As a team member, you can request and receive approval for vacations in Slack, see how many days off you have to remain, check who from your team is and isn't in the office and more.
As a manager or administrator, you can do all of this, and so much more, from setting-up custom leave types, to exporting valuable reports. You can even set daily or weekly notifications letting everyone in the team knows who's out of the office when. Just select the Slack channel and time you want the messages to appear in, and you're all set.
As everyone will always be in the know of who's on vacation when, you'll easily be able to establish clear communication within your team. Has it ever occurred to you that the person you're counting on isn't in the office? It probably has. The deadline is just around the corner, and there's no way you'll make it in time without that one person. With Vacation Tracker, this cannot happen. By knowing who's out of the office when, you'll be able to accurately roadmap future work and finish everything smoothly.
2. Slack
Slack is a collaboration hub, designed to bring the right people together with the right information. It has a tone of useful features, from search, shared channels, apps, and integrations to pinned items and more.
You can divide all channels by team, project, client or whatever you need, and all your team members can join and leave channels as needed. Slack can help you with your meetings as well, as the software allows voice or video calls, with the possibility of sharing your screen. You can also share files through Slack, whether they're PDFs, images, videos, etc. It really makes the process of getting feedback so much simpler, as you can get everything done within Slack and get feedback right there and then.
It makes your teamwork a lot more efficient, by keeping everyone in the loop of what's going on so they could stay aligned and focused on the goals. It does not matter if you have teams in multiple offices, or not, as with Slack you'll be able to keep everyone informed and connected at all times.
Another great thing about Slack is that it has a lot of useful integrations your team can use.
💡 Bonus tip: Both Vacation Tracker (mentioned above) and Trello (mentioned below) are integrated with Slack.
There are even Slack integrations that can help you improve your marketing efforts, HR department, customer support and so much more. All of the integrations are stored in the Slack App Directory.
3. Trello
Trello is a collaboration app that lets you track everything in your organization, from the smallest and simplest tasks all the way to the big picture.
What's great about Trello is the possibility of using boards and cards in order to separate projects and keep track of them. Separate projects with boards within which you can place a card for each task, and easily keep track of what's done and what's in progress. You can even put deadlines on specific cards so you know how much time you have left to complete a task. There's even an option to mention other people within cards and share with them what you're working on or ask for a comment/help.
With Trello, your team members are able to follow updates easily, and discuss projects in real time. It's a project management tool created to simplify the way you manage and organize tasks, and establish clear communication within your team.
There are a lot of things that affect team communication, and in order to make it clear and effective you need to dedicate your time and resources to make it work. We've shared the 3 tools we consider will help you improve your team's communication and create a work environment everyone's happy to be in.
Check out the online HTML CheatSheet here and save the link because you might need it while composing content for a web page.