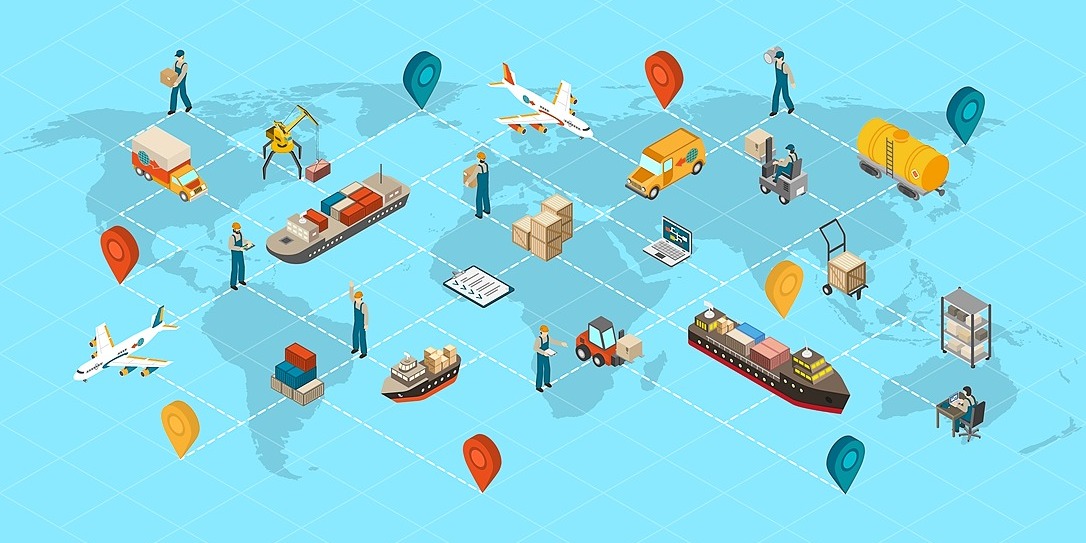 2020 Pros and Cons of AI in Logistics
February 7, 2020
The fourth industrial revolution introduced us to many amazing technologies. Big Data, Artificial Intelligence, and Machine Learning have now become some of the most important terms in the business sector. The companies are looking for advanced methods to automate processes to enhance their productivity. Also, technological advancements help them to cut down failures, errors and the additional expenditure to manage the human workforce. 
Among many logistics software companies, CartonCloud shares the view that AI and machine learning will positively impact the global supply chain. Here we are going to talk about the Power of AI in Logistics. With the smart automation systems and highly integrated platforms, it has now become easier to manage transportation needs with AI. Reports say that AI is transforming the way businesses used to handle complex supply chain management tasks at earlier stages. It has made things easier, smoother, and fruitful. 
AI gives the ability to control all operations and activities with advanced software tools. With this, it becomes easier to make intelligent decisions; that too at most appropriate time. However, it is important to mention that AI, along with unlimited pros, also has some cons in the logistics sector. This article can help you understand them well with detailed discussion. 
Pros of AI in Logistics:
There is no doubt to say that AI makes things easier to manage; especially, at large project sites. The vehicle movements on the road can be better controlled with the power of AI. You can ensure better control even with a lesser number of workers because everything can be controlled with few buttons and software commands. Below we have highlighted a few amazing benefits of AI in the logistics sector:
Lesser road accidents:
The biggest benefit of AI in logistics is that it can control the behavior of traffic on the road. Studies reveal that AI-powered vehicles can reduce the chances of accidents on the road as they have the ability to make quick decisions in case of emergencies. By combining the power of AI into the logistic sector, it becomes easier to save humans from getting involved in any kind of fatalities. 
Reduced cost of shipping:
People love to shop online, and they are eager to receive fast delivery on their doorstep. But none of them want to make an extra payment for shipping. Well, the AI-powered systems or pilotless cars can easily reduce the cost of shipping. Also, the driver's salary expenses can be reduced by a considerable level. 
Centralized management:
With AI-powered systems, it becomes easier to filter, accumulate, and analyze huge datasets. This system can learn from consumer habits and manage inventory as per rising demands in the market. Companies can use these strategies to identify future trends as well as seasonal changes in the demands. These automated processes make it easier to track and deliver products with centralized controls. 
Timely delivery:
Whether it is about inventory in the companies or shipping products to the end consumers, AI helps to save more time. AI makes the processes simpler and highly accurate. The new-age systems can schedule deliveries by judging weather forecasts and other hurdles on time. It helps teams to make adequate estimations in advance so that consumers can trust your services. 
Improved safety:

The higher number of automated software, robots, and intelligent systems are making it easier to improve safety at work. These advanced systems can reduce the chances of manmade risk; hence, many major accidents at the workplace can be avoided with ease. The handling of large packages and big machinery also become easier in the supply chain. 
Enhanced customer satisfaction:
AI-powered systems make it much easier to enhance customer satisfaction. The automated chatbots, quick response systems and instant routing of client queries make it easier to handle customer needs. The speedy responses make people satisfied and they love to return to make more purchases in the future. AI-powered chatbots stay active 24X7 so that people can feel connected to your business and submit their queries at any hour of the day. 
Cons of AI in Logistics:
We have gone through the amazing benefits of AI in the Logistics sector, but at the same time, we cannot ignore the cons of this technology. Below we have highlighted a few downsides of using AI in the logistics:
Difficult to point out mistakes:
When everything is controlled by the machines, sometimes it may become difficult to make decisions about wrongful actions. Although AI can eliminate the chances of accidents by considerable level; but who will be responsible for the sudden mishappenings. People will blade technology only, and the losses cannot be handled. It may get complicated to spot mistakes.  
Vulnerability:
Studies reveal that AI-powered systems are vulnerable to hacker attacks. As everything is being controlled by some machines and software tools, it becomes difficult to eliminate the risks of unauthorized access. The upcoming researchers need to work hard to add a layer of security to AI-powered systems so that intruders cannot steal important data. 
Skill gaps:
Installing and operating AI systems in industries is not that easy task. It demands a skilled team of professionals to take advantage of these systems to the fullest. The demands of expert knowledge are rising high, and it has now become quite difficult to fulfill the skill gaps. Before switching to AI, companies need to ensure that they have a trained and skilled workforce to manage everything flawlessly. 
Reports reveal that AI has given new dimensions to the logistics, supply chain, and warehousing sector. Although it has both positive and negative impacts, the talented teams and skilled workforce can bring out the best results. Companies may need to hire experienced and trained professionals to manage their AI-powered systems that can promise higher productivity. 
AI is currently at the early stage of design and development. But this new form of intelligence can help you to improve overall functioning with ease. It leads to enhanced time and cost-saving while building a solid impression of your business in the competitive business sector. You can soon have a huge satisfied customer base in the target market.