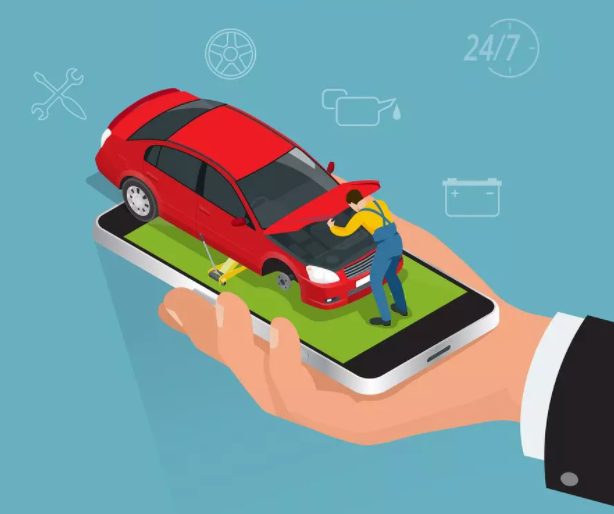 Top 7 Mobile Apps For Vehicle Repairs
June 4, 2021
Owning, operating and maintaining a vehicle is not easy and Mobile Vehicle Applications (Apps) now offer cars and fleet owners the opportunity to optimise fuel economy and reduce overall car costs. Using Mobile Vehicle Apps, car owners can now easily make fuel calculations, be reminded of scheduled maintenance and save costs in the long run, all in one place.
If you own a car, truck, motorcycle or any type of vehicle, Mobile Vehicle Apps make it easy and simple for users to keep detailed records of things like oil changes, tire rotations, services, and other maintenance tasks. App users can also set reminders by date or distance as well.
It is important to be aware of vehicle expenses so that budget forecasting and revenue goals can be met with ease. Using a Mobile Vehicle App users can figure out just how much each car is costing them and also the impact of fuel and routes are having on financial productivity.
Car users can stay on top of the key details of their vehicle and quickly find out when your last service was done or tires replaced etc. and also show potential buyers the car service history before transferring the ownership. Mobile Vehicle Apps also help big fleet operators to manage multiple cars and keep all your records in one convenient place and access them across multiple devices.
1. Drivvo
The Drivvo Mobile Car App helps users to control their vehicle's fuel and maintenance related expenses in one single App. Designed for both personal or professional use, with the Drivvo App you always know where you stand with your numbers.
The Drivvo Mobile Car App, provides detailed reports and analysis based on your fuel consumption and efficiency and you can even organize your fuel by the type of fuel and fuel stations visited. With this App users can instantly find out how much they are spending on their vehicle be it on insurance, fuel, or fines.
When it comes to operating fleet cars often drivers and other employees may take advantage of the system and cause losses in the long run through dishonest actions. A mobile Vehicle App such as Drivvo can minimise such instances with its smart data sets that provide owners the ability to make smart  and informed decisions.
2. Fuelio
With the Fuelio Mobile Vehicle App, users can track all financial related data to their personal or fleet vehicle. This includes the amounts spent on fuel, services and registrations in addition to analysis on fuel consumption, and car mileage as well.
Users of the Fuelio Mobile Vehicle App can enter how much they spent on topping up their fuel and other details and the App will generate easy to understand statistics about fuel economy and efficiency and maintain a fuel log as well with all the required financial details.
With an easy-to-use interface that is cleanly designed, users can analyze their fuel activity via Google Maps and furthermore obtain related mileage expenses through simple visual data.
3. AUTOsist
The AUTOsist helps you stay organized and manages the record for your vehicle. Users can log their maintenance tasks and also set reminders as well for fuel, fines, registrations and more.
Using the AUTOsist Mobile Vehicle App users can also add any of their receipts or documents directly from their smartphone camera. The AUTOsist system is cloud-based, so drivers or owners can access their records anytime across any number of synced devices.
4. Simply Auto
Simply Auto is a simple yet effective Mobile Vehicle App that empowers users to track your vehicle's data, anywhere, anytime. It is essentially an all-in-one digital logbook for your car.
Those using the Simply Auto Mobile Vehicle App can also keep track of their car activity via GPS. This helps to manage your mileage including figuring out which ones are tax deductible.
5. Openbay
Using the Openbay Mobile Vehicle App users can discover the most suitable local mechanic that offers reasonable pricing in your localised area. Using the Openbay Mobile Vehicle App users can discover local garages, get quotes and also book a visit as well, all in one place.
Selecting and trusting a mechanic or garage is not always easy. When It comes to vehicle repairs many individuals and companies look for a reliable and honest mechanic who will provide them with good service at a reasonable rate.
With many fake car parts around, it is important to engage the services of a reputed mechanic who knows what he is doing and only works with authorised agents to obtain spare parts and other services.
From routine vehicle maintenance (oil change, brakes, recommended service by mileage interval) to more complex repairs, Openbay is the most convenient way to find, book and pay for auto repair.
6. Fuelmeter
The Fuelmeter Mobile Vehicle App helps users to more efficiently manage their fuel consumption with easy to grasp visual graphics and detailed statistics.
Users can have multiple vehicles with different types of fuels and calculate fuel usage for any saved journeys. The App also helps users to download and share their data across a range of devices. Over time users can improve their record keeping leading to higher fuel optimization and lowering of costs in the long run.
7. Mileage Tracker
The Mileage Tracker Mobile Vehicle App personal and fleet car owners can stay on top of their costs with a host of features helping users to track their mileage across a number of categories.
This App goes further with a log of your car maintenance with reminders, a fuel calculator and distance tracker and your full journey history always saved on a map. With one click, users can access their car usage statistics across a number of devices and keep track of multiple vehicles with different fuel types each under their own car profile.
Conclusion
Mobile App Development creates Mobile Vehicle Apps that can help to organise an effective maintenance schedule for your personal or fleet vehicle and provide you with valuable insights that help lower costs, increase efficiency and so much more. Download a Mobile Vehicle App and hit the road with confidence!  Got an idea for a Mobile App? Click Here to find out how to build your very own Mobile App with experts.