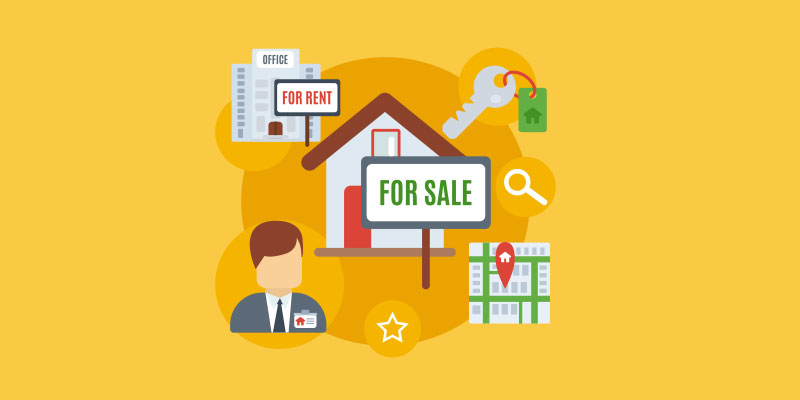 Marketing – A Realtor's How-To Guide
January 17, 2020
0
By
Draga Mihalkov
When it comes to marketing, a lot of realtors rely on the most traditional methods such as newspaper ads, billboards, business cards, and posting signs in front of properties. While these are all great strategies, the problem is that everyone is using them. And this means that most realtors have a difficult time standing out from their competition. If you have properties that you want to sell then you need to take a different route than your peers. Let's take a moment to discuss a few overlooked techniques as well as their pros and cons.
Digital/Social Media Marketing

It's no secret, everyone is online these days. Particularly, they're spending a lot of their time on social media. And that's why the best realtors have established a presence on the most popular platforms. Each platform provides its own benefits.
For instance, Facebook is an ideal place to advertise your properties as its user demographics represent the audience that you need to target in terms of income and age. Also, Facebook gives you the ability to book appointments, curate reviews, and laser target your audience through ads. Instagram is the perfect platform for showcasing stylish images of your properties. And its Stories feature allows you to give quick tours. Check out Instasize to help you improve your property photos Unlike other social media platforms, Youtube gives your listings more personality and dimensions. It helps you build a reputation and gets you listed in Google's search engine.
You don't have to only rely on social media to advertise your business. You can also use Google. For example, Google's popular online advertising platform, Adwords, can be used to create ads and attract clicks. It's not free, but it's one of the fastest ways to get your brand in front of a huge audience. And the best thing about this platform is that you can make sure that your leads are actually qualified with the use of targeted keywords.
Another great Google resource is Google My Business. This free set of tools makes it easier for people to find your brand. With Google My Business you'll show up in Google Maps, get star ratings, rank higher in the search results, and increase engagement.
While digital and social media marketing has a huge amount of potential, these methods do come with their own drawbacks. One of the biggest downsides is that it takes a considerable amount of time to build your social media presence. People need to trust you in order to do business with you, so that means that you're going to need to spend a lot of time interacting with your followers. And this can be a tedious process. Another con is that your reputation is more vulnerable. Without proper management, you may experience damage that could be irreparable.
Word of Mouth

When it comes to promoting your business there's hardly anything more effective than word of mouth. In fact, your current customers can be the lifeblood of your business. The key is to go out of your way to ensure that they have the most pleasant experience possible–even when you're not selling directly to them. And in most instances, this comes down to the simple things.
For instance, send your past clients a special email on their birthdays. Send out holiday cards and wish them a happy season. You may even consider sending the occasional gift. These things may seem insignificant, but they're ultimately what helps to keep you on your clients' minds as well as associate your business with a positive event.
Word-of-Mouth marketing can be a bit more challenging if you're new and have little to no clients. However, it's not impossible. The best strategy for beginners is to build a strong network. Not only should you reach out to others in your industry, but you should also speak with your family, friends, and neighbors. Kindly suggest that they recommend you to anyone who is in need of a realtor.
Once you start attracting leads, you then need to work to demonstrate your knowledge of the inventory and then find listings that closely match your customer's needs. These two factors will ensure that they share their experience with everyone they know.
While word-of-mouth marketing does have it's benefits, it's important to consider the challenges that come along with it. Most realtors don't realize that this type of marketing can create unrealistic expectations. And these expectations can often be difficult to meet depending on what the recommender expressed to the client. Another downside to this type of marketing is that you can't really measure your results. Sure, you may have an increase in clientele, but you may or may not know where all of your traffic is coming from. Therefore, it can be challenging to make improvements when using this technique.
Public Relations
One of the most overlooked marketing techniques in real estate has to do with public relations. Specifically, you could position yourself as a philanthropist–one who's interested in giving back to the community. This way, people associate positive efforts with your brand and you get a ton of exposure. There are several ways to demonstrate your philanthropy.
You may offer charitable donations. Perhaps there's a hospital that needs funding for research and development. Maybe there are schools in the community that are in need of updated technology or equipment for their students. Another great cause to donate to is Habitat for Humanity, a non-profit organization that helps to provide housing for families in need.
You could also consider throwing your own charitable events. This way, you could get the entire community involved in raising money for a specific cause. Reach out to others in your industry to find out who would be interested in partnering with you for the event. The more recognizable the names of your partners, the more buzz the event will get. Hold a marathon, an auction, concert, or sporting event.
As with any other marketing technique, public relations can have its drawbacks as well. First, your efforts may come across as opportunistic and insincere–especially if the cause doesn't really align with the brand that you've created. Second, the event may have very little impact on the community if there isn't enough marketing behind it.
Also, there's always a chance that the businesses that you partner with could lead to a negative association. So it's important to choose your partners very wisely.
Direct Mail

Of all the marketing techniques that we've discussed so far, perhaps the most untapped resource is direct mail marketing. This strategy involves sending physical packages, brochures, letters, and postcards directly to your current and potential customers.
The best thing about this particular method is that whether you're a seasoned veteran or are just starting out in the real estate industry, the results are awesome. This is especially the case when it comes to postcards because they can give the customer an idea of neighborhood market value, offer free valuations, or let them know about a sale.
The key to launching a successful direct mail marketing campaign is to make sure that your postcards accurately reflect your brand. They need to be professionally designed. Also, you need to be able to track your campaigns so that you always know when pieces have been delivered.
It's a good idea to use a service that provides these features for you, such as wisepelican.com. With Wise Pelican designing your postcard is easy. They provide customer mailing lists. And the best part is, you don't have to worry about placing a specific number of orders. minimums, you can order custom mailing lists as well
Conclusion
If you want to be one of the top realtors, then you need to put your energy towards methods that your competition isn't using. Methods like direct mail marketing allow you to tap into resources that are rarely taken advantage of.