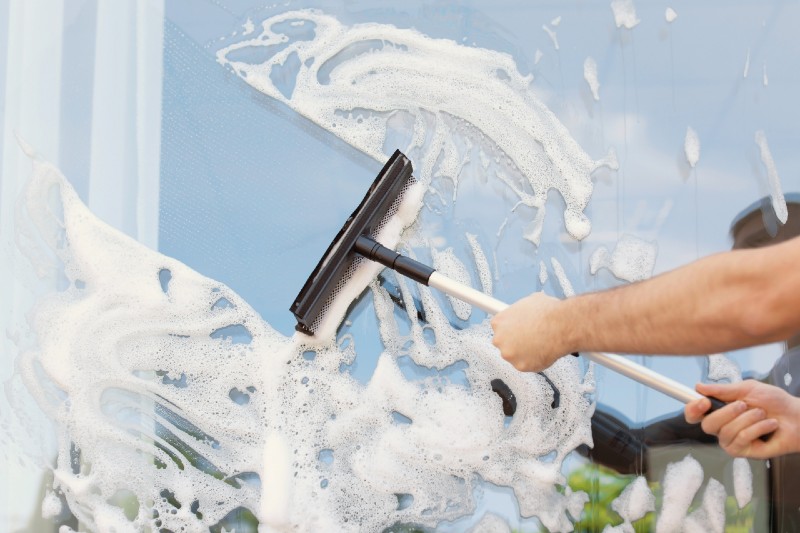 How Much Does it Cost to Have Windows Professionally Cleaned?
July 13, 2021
Cleaning the windows in your home is just as essential as any other housekeeping task. Because of work, school, and other daily responsibilities, we are unable to handle window cleaning. This is why it's a good idea to get an expert window cleaner, albeit it's all costly, and it's natural to worry. Don't be afraid to browse around. You can set a budget and look for a professional window cleaner that will do a decent job for that or a comparable amount of money. Also, request quotations from several window cleaners so that you can know the expense of getting your windows cleaned professionally.
Read on to find out the factors that decide the cost of a professional window cleaning service and decide it for yourself! If you are still not sure and need a second piece of advice, you can visit schoonmaakbedrijfvaniersel.nl for all your professional glass cleaning requirements.
Factors That Affect the Cleaning Costs
Professional window cleaners usually charge less or more depending on a variety of factors. These factors include the number of panes and windows in your house, the window size, the number of floors, and the presence of any window screens. Prices also vary depending on how dirty the windows are and whether you want to sign up for a one-time cleaning, a monthly, or an annual service.
Let's look at these factors in detail.
1. Varieties of Windows
Cleaning costs are generally based on the kind of windows you have. It might be that you have windows with numerous panes. In that case, this will take more time to be cleaned than a regular single-paned window. If the windows are extremely dirty, then this too will be on the higher side of cleaning costs.
Sometimes, even floor levels determine the cost you will be charged. The higher the floor level, the higher the cost because this contributes to the difficulty in cleaning the windows as well as is a matter of concern for the cleaner's safety.
2. Frequency
Your location influences the frequency of when you require window cleaning. You should consider cleaning them up at least once per month if you live in a city, where dirt and debris accumulate in windows quicker than in a rural area. You should clean the windows at least once every two months if you reside in the suburbs.
3. Decide the Priorities
Do you want to clean the window internally or just externally, or both? You may save money by selecting an internal or external service alone, but as with other treatments, if you choose a la carte price, you are paying more for each treatment. Having said that, having the inside windows cleaned in addition to the outside will cost extra. It is uncommon to have an interior cleaning alone. Exterior cleaning is typically approximately 80% of the total cost of the in-and-out service.
4. Paint and Stain Removal
If you need to remove stains or paint from the windows, expect to pay more. The cost of this may be as high as the price for the window itself.
5. Ease of Access
The cost of the cleaning service is determined by more difficult-to-access locations. Cleaning the windows in a single-story bungalow is less expensive than cleaning the windows of a three-story townhouse. This is mostly because the latter necessitates the cleaning professional hauling ladders to reach higher places.
Why Do You Need a Window Cleaning Professional?
From the smallest windows to the entire window panes, it would certainly save you a great amount of valuable time by hiring an expert to perform that work. There are, however, many more grounds for externalizing this:
Cleaning windows requires a complete process. Only a skilled and experienced window cleaner will understand it right. The professional will know the correct motions and the perfect water pressure and the right materials for every kind of surface.
It's a really long task that may tire your body. Your muscles are likely to experience the effect of repeated motions from aching arms to stiff necks.
Even if you can do the job, you probably won't have all the pieces of equipment you would need to clean the windows.
Since you are not a professional, you might not perform the cleaning adequately, which may result in huge strips or rests of moose and dust that will harm your windows.
Residential Cleaning Prices
Most cleaners do not ask for an hourly rate for residential windows; they charge per pane.
Commercial Cleaning Prices
Window cleaning services when done for commercial purposes, such as those at restaurants, auto dealerships, storefronts, and office buildings, are often higher than window cleaning when done for residential purposes. This is because they are more frequent, the windows can be cleaned more quickly, and they offer employment all year, even during the winter months.
Where Can You Find the Best Window Cleaning Services?
Today, there is no shortage of commercial cleaning in the market. The ideal approach should be to choose an experienced company that has been in business for a long time, has a trained staff, and the necessary equipment for the cleaning task. You should ask for at least three different quotes from different companies that provide commercial window cleaning. You can ask the cleaning professional for three types of cleaning such as water blasting, steam cleaning, or complete house washing for the interiors.
Conclusion
Your best bet would be to hire a reputable window cleaning professional to ensure you receive your money's worth and before you hire find out how much window cleaning costs. Provide the cleaning professional information they need about your house and windows before asking about the window cleaning price estimate. The information they will provide you on how much it will cost to clean your windows will be based on regional pricing, which may differ in your state and even in your location.