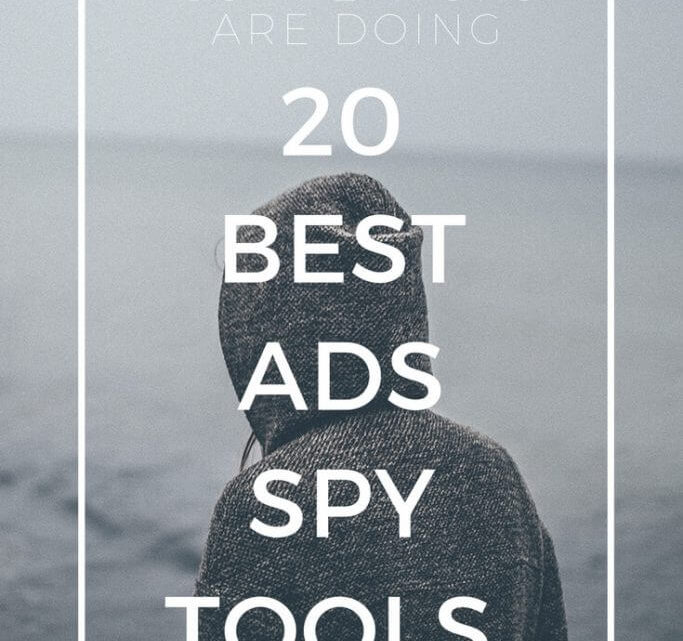 The Ultimate List of Advertisement Spy Tools – Know What Your Competitors Are Doing
October 29, 2018
I have always had the thought of becoming a spy, with fast cars, gadgets and a very beautiful significant other. It'd be an excellent way to obtain secret information.
But, now it is quite late for me for joining the Secret Services, but I can definitely indulge in undercover information collection and you also can, by taking a creep peek at your competitors.
We aren't talking about industrial espionage; however, there are many good reasons to find out what your competitors are doing. Some of them include:
Getting inspiration on new methods to link with clients and hence improve client retention
Find if your competitors are doing something better than you
Look into their marketing and search optimization approach and find what you can steal legally
Improve your plans to beat your competition depending on data instead of assumptions.
There are many advertising tools that you are already using probably to monitor your performance. They can be utilized to get some competitive intelligence. Let us assume that you know who your competition is already. All you need to do is simply monitor the different areas.
Advertisement Spy Tools
Want to find out where the competitors are advertising so that you can also do it? Want to know what keywords are they targeting? If yes, then this set of advertisement spy tools will help you out:
Premium Ads Spy Tools
SEM Rush (https://www.semrush.com/)
This tool lets you spy on the competitors PPC ads. You can easily find out which keywords they are bidding on, what amount are they paying, the ad copy they are using and a lot more.
You can also localize your ad campaigns and discover your new competitors in Bing Ads and Adwords using this tool.
Prices: Available in 3 different packages at $69.95/ month, $149.95/ month and $549.95 /month.
Adbeat (http://www.adbeat.com/)
Uncover an advertiser's online advertising strategy with Adbeat. Find what is working for them and use their result to get smarter and spend smarter.
Adbeat Publisher Discovery Tool will help uncover where the industry leaders and competitors are spending already along with new source of "undiscovered", high quality traffic.
You will also get to know which advertisement copy, landing pages and publishers work for your niche and industry. With Adbeat, you also can identify shift in advertisers spend to get more revenues, close more deals, uncover new customers and uncover more premium advertisers ready to purchase more.
Prices – Standard package available at $249 per month
AdFox (https://www.adfox.ru/en/)
AdFox offers everything you require to get your Facebook marketing on the next level as a native ad spy tool. It helps you find new winners with a few clicks, increase CTR and increase profits and offers thousands of advertisements to choose from.
Adfox's huge ads database covers nearly all niches and countries and is designed in a way that both professionals and beginners can find their ways around easily.
Adfox lets you search every kind of ad on both Mobile and Desktop.
Prices: With 30 days trial available at $1, AdFox's starter Plan is available at $39/month, Premium Plan at $ 97/month and Advanced Plan at $ 67/month.
WhatRunsWhere (https://www.whatrunswhere.com/)

Using WhatRunsWhere, you can get the most via competitive intelligence that can assist you excel in future Ad Campaigns. With this tool, you can know all the vital data related with competitor's advertising activities.
It caters to both mobile advertising and display advertising industry. WhatRunsWhere offers you with ample data by researching your competitors' advertisements. You can also discover new traffic sources, using this tool.
Prices: Available at $1 trial, WhatRunsWhere has different packages available at $175/month, $249/month and $329/month.
BoxOfAds (https://www.boxofads.com/)
It is rated as the best spy tool for Display Banner Ads. With this tool, you can find the display ads that get converted so that you can improve on your ads strategy. This tool offers you access to almost millions of Banner Ads in diverse categories. Simply use this tool and get all information you need to run a successful Ad campaign.
Prices: BoxOfAds has different packages available at $147/month, $247/month and $599/ month.
AdultAdSpy (http://www.adultadspy.com/)
This is another powerful and cool advertising intelligence tool. This is a must-have tool if you're dependent on the adult traffic. Adult AdSpy indexes and categorizes all web and mobile ads across 51 categories historically.
It offers a detailed analysis of landing pages and ads. With this tool, you can search ads based on publisher, advertiser, size, offer, landing pages or traffic source. It makes ad spying absolutely smart and easy.
Prices: 14 days trial available at $1 and then $47 per month.
AdVault (https://www.advault.io/)
Access millions of adverts and find out the winning ones using AdVault's Times Seen, Ad Run metrics and AdStrength.
Discover which ads, landing pages and funnels are converting better, where they're published, for which country and by which advertisement network.
Its AdTracker allows you to track particular keywords and advertisers so that you can locate their activities and know when the new ad appears.
Advault's show you yearly, monthly and daily top advertisers and keywords so that you see all the ads related to them.
Prices: Available for 3 days trial at $1, AdVault also has different plans available at $179/month, $249month and $1499/month.
AdPlexity (https://adplexity.com/)
With native advertising becoming one of the quickest evolving industries, it's almost impossible to keep a track of newest trends without any kind of competitive intelligence.
With AdPlexity, you'll get full insights on what's working for the competitors and by using that data in your campaigns, your money and time will be saved.
Find ads promoting the affiliate offers from around 100 affiliate networks. With AdPlexity, you get access to hundreds and thousands of ads that are collected daily along with ability to download the landing pages with just 1-click.
Prices: $249/ month
AdsXposed (https://www.adsxposed.com/)
Find out which ads make most money with AdsXposed. Running a lucrative mobile campaign can really be very challenging. This tool shows you which ads run constantly and get the largest exposure and thus make money.
AdsXposed offers you the service of checking thousands of ads daily, scraps both Android and iOS ads, cover all redirect and pop traffic source and offers 100 percent accurate results because of manual filtering.
You also get an alert whenever your competitor posts a new ad.
Prices: $169/ month
AdEspresso (https://adespresso.com/)
AdEspresso helps make Facebook advertising profitable and easy for medium and small businesses. Whether you wish to sell out more products, increase fan base or boost engagement with community, this tool will help create and optimize advertising campaigns which truly works.
It is super easy for anyone to use and helps users to enhance their knowledge about Facebook ads when in use.
Prices: Available for 14 days FREE trial, its different packages come at $49/ month, $149/month and $299/month.
KeywordSpy (http://www.keywordspy.com/)

Spy on your competition and profit from their great success using KeywordSpy.
With this spy tool, you can discover your competitors along with their keywords, get fresh data with daily database updates, find profitable ads and ad copy combinations, see a website's spending for Adwords and get more than 127 million keywords.
Prices: Different packages available at $89.95 per month and $ 139.95 per month
Pay Per Trial (https://paypertrail.com/)
Get ready to uncover your competitor's marketing strategy now with Pay Per Trial. Spy on your competition, find the most lucrative ads and discover highly performing sites and network placement for your upcoming campaigns.
You can also uncover and track the high value advertisers quickly with this tool. This will help grow your audiences and boost traffic monetization.
Pay Per Trial also help you to uncover ads from more than 60 native and display networks, ranging from big international network to small local native networks.
Prices: Along with 7 days free trial, Pay Per Trial offers packages at $175/month and $349/month.
Anstrex (https://anstrex.com)

With Anstrex, you can discover the secret of native advertising approach of any advertiser. This tool offers you with insights like no other platform or tool.
They scan thousand of websites many times a day in order to give most precise statistical accuracy about ads as compared to other tools.
The tool classifies each advertiser's site using machine learning algorithm for simpler search across given market vertical.
Anstrex's crawlers capture high resolution screenshots of each visited page of advertiser thus giving users with exclusive chance to view data even when it might not be available any longer.
Prices: Anstrex offers different packages at $39.99/month, $49.99/month and $59.99/month.
AdSpider (https://adspider.io/)
Spy on the native advertisers using AdSpider. With top notch technology, this tools indexes millions of ads and track native advertisements in multiple languages and in 26 countries.
This tool tracks ads on five major devices including iPad, iPhone, Desktop, Android tablet and Android Phone. With AdSpider you can save your favorite ad and view it when you want.
You can also find out which ad campaign is performing the best.
Prices: Along with 3 days trial at $1, this tool comes in 3 different packages available at $150/month, $350/month and $1350/month.
Native Ad Buzz (https://www.nativeadbuzz.com/)
Using Native Ad Buzz, you can search and analyze best native ads in order to uncover what is hot and launch a winning campaign. You can also create a library to save your favorite advertisements and campaigns to refer them later.
In addition, this tool helps you to filter ads by advertisers to follow what the competitors are actually up to.
Prices: All 3 packages are available at $7 for 7 days trial and then $47/month, $97/ month and $873 / year respectively.
Free Ads Spy Tools
Moat (https://moat.com/)
Moat offers a free advertisement search tool which lets you key in the competitor brand name and see what advertisements they've shown recently.
Moat is used by publishers and top brands alike on content views and ad impressions to measure and even attract attention.
Through Moat's pre-bid integrations and exclusive platform, you can transact on industry-specified and original Moat signals in the digital video as they never can in broadcast media.
Moat really measures more digital video ads impression than anyone out there, globally.
Compass (https://www.getcompass.co/)
Find out which ads your competition is running on Facebook using the spy tool Compass. Compass helps build complete and successful ad campaigns by just making it simple for you to discover what ads your competition is using or has used.
Using Compass you can identify new ads depending on the competitive data along with new advertisers in same industry like yours.
SocialAdNinja (http://www.socialadninja.com/)
This tool offers you the chance to learn from most successful PPC advertisement campaigns. SocialAdNinja is mainly useful if you want to target PPC Facebook Marketing.
It offers you with a simple to use and highly interactive interface in order that you search profitable campaigns easily. You can also search the ad creatives using keywords.
AdGooroo (https://www.adgooroo.com/)
It is a global leader in the Search Marketing Intelligence which helps the best brands as well as their agencies across the word to attain a competitive benefit in search marketplace.
Read more about free blog title generators for better ranking.
AdGooroo is trusted by professionals for actionable, reliable insights to reveal their main competitors' organic and paid search strategies and enhance their campaign performance.
AdGooroo allows clients to see both historical and current data – including performance statistics, spend estimates, ad creative and keywords – for any advertiser's product listing ad and text ad campaigns across tablet/ desktop and mobile searches in over 50 countries.
MixRank (https://mixrank.com/)
MixRank let you see the blend of advertisements that different companies are using. Here, you can find a snapshot of all this data which covers text ads, display ads, demographics and advertisers, though you'll need to create you account for a full time report.
MixRank constantly crawls the internet, detecting ad campaigns, technologies, tags, social integrations, SaaS and more.
It also helps identify new clients using different fingerprints that forecast buying behavior, budget and market fit. It also maintains a wide database of decision makers, contact information and companies.
SimilarWeb (https://www.similarweb.com/)
SimilarWeb empowers you with insights you want to win your marketplace. This tool offers you with worldwide multi-device market's intelligence to know, track and increase your digital marketplace share.
Benchmark your site against any competitors in the world in order to see how nicely you're doing when it comes to ads, overall visits, page viewsper visits and bounce rate.
AutoTrafficFast (Update : Currently not working)
AutoTrafficFast offers you with the best Ad Spy Tools so that you easily can track the best Ad campaigns of your niche.
The tool offers you with access to very large Ads Intelligence database that can allow you to run best and successful ad campaigns. In this way, you'll be better prepared to apply new strategies and ideas or your Ad campaigns.
With it, you can search the ad campaigns that are based on keywords, be verticals, internationally, etc.
AdsVantage (http://adsvantage.net/)
With AdsVantage, you can uncover the top performing ads and pre-sales of your competitors. It also lets you reduce CPC and increase your CTRs upto 50 percent.
AdsVantage's social ads insights spy on hundreds of lander and ads in minutes, saves up to half of your own budget via campaign optimization and gets clear data about what is driving likes, comments and shares.